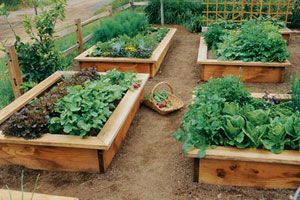 How to Build Raised Beds
Contributed by The Old Farmer's Almanac Staff
Boost your bounty and reduce its growing time by using a raised bed.
What is a raised garden bed?
A raised garden bed is essentially a large plant container that sits on the ground. It is a box, built to your specifications with no bottom or top, that is placed in a sunny spot and filled with good-quality soilto become a source of pride and pleasure.
Why should I garden in a raised bed?
A raised bed garden has many benefits. It...
• is ideal where ground soil is rocky, of poor quality, or abused
• perfect for small spaces
• gives the gardener a longer growing season
• reduces weeds
• prevents water runoff
• enables better drainage and deep rooting, which results in a higher yield
• can eliminate the need to bend or stretch to ground level
What materials are needed for a raised bed?
Raised beds are often made of wood. Pressure-treated wood (not CCA-treated) is certified as safe for gardening. However, the best option is cedar, which contains natural oils that prevent rot and increase durability. (Avoid railroad ties; these may be treated with creosote, which is toxic.)
Concrete blocks are another option. Concrete is relatively convenient: Concrete blocks are heavy to move, but there are no stakes or nails involved. Be aware that concrete will increase the pH in the soil over time. After the first year, test the soil and amend accordingly.
How much wood or how many concrete blocks do I need?
The amount of wood or concrete blocks depends on the size of your garden, and the size really depends on the space available in an area that gets 6 to 8 hours of sunlight.
• Consider that plants in a bed 4 feet wide will be easy to reach without stepping onto the soil. Length is less important; lengths of 8, 10, or 12 feet will provide plenty of growing area.
• Work with the lumberyard attendant to calculate the proper board feet to suit the desired size of your raised bed. While you are there, purchase suitable nails.
Concrete blocks are typically 16 inches long by 8 inches high and 8 inches wide. Calculate the number needed and consider stacking them two-high to create maximum soil depth. Remember that whether you build the bed of wood or of concrete blocks, soil depth is important: Plan for a minimum of 6 inches of soil, with 12 inches preferred.
How should I prepare the raised bed site?
Plan to make this your garden for several years and prepare accordingly. Before setting up the raised bed, loosen the soil that will be under it with a garden spade or fork. Remove any grass. To improve rooting and drainage, remove and set aside 6 to 8 inches of soil. Then dig that depth again, leaving the loose soil in place. Add the top layer of soil to it and mix the layers together.
What is the best soil for a raised bed?
The soil blend that you put into your raised bed is its most important ingredient. More gardens fail or falter due to poor soil than almost anything else. Organic matter is essential, whether bought in bags or created by composting at home. Here are a couple of recipes. For each, simply mix the ingredients to combine. Note: Avoid using "topsoil" from your yard. It may contain nematodes (microscopic worms) or soilborne plant bacteria and often does not drain well.
For a 4x8-foot raised bed:
4 bags (2 cubic feet each) "new" (bagged) topsoil
2 pails (3 cubic feet each) peat moss
2 bags (2 to 3 cubic feet each) compost or composted cow manure
2-inch layer of shredded leaves or grass (grass should be herbicide- and fertilizer-free)
For a bushel of soil mix:
1/3 bushel "new" (bagged) topsoil
1/3 bushel compost, peat moss, well-rotted manure
1/3 bushel vermiculite or perlite
1/2 cup 5-10-5, 6-10-4, or similar fertilizer
Fill your raised bed to the recommended depth (6 inches, minimum, to 12 inches or more), and you are ready to plant seeds or seedlings. If you build your raised bed with concrete blocks, do not overlook the holes in them: Fill them with soil; they are containers, too, suitable for strawberries or flowers such as impatiens, petunias, or marigolds. In the bed, space plants as directed on the seed packet or plant tag. Water as needed. Mulch to minimize weeds. Then enjoy the fruit and vegetables of your labor!