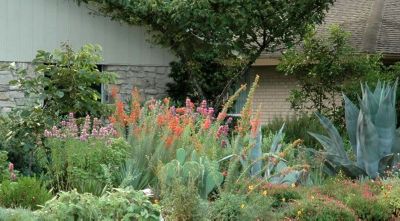 How to Create a Rain Garden
Prepare for drought and save on your water bill by taking advantage of nature's gift of rain.
What Is a Rain Garden?
A rain garden is a bowl-shape area that captures water runoff from storms and allows it to soak into the ground slowly.
How Does a Rain Garden Work?
Rain gardens turn your soil into a living sponge, absorbing 30 percent more water than your lawn. The design maintains a healthy level of groundwater in your soil and evenly distributes runoff during heavy rains. Rain gardens prevent erosion by diverting the rain away from your home and using the excess to water your garden for free!
You Will Need . . .
Shovel
Tape measure
Gravel
Two wooden stakes
String
Carpenter's level
Sand, compost, topsoil (optional)
Stones (optional)
Before You Begin . . .
During a rain shower, observe how much water comes off your roof or down drain spouts and where it pools. The size of the basin will depend on the amount of water you direct and how fast it drains.
Where to Put a Rain Garden
Study your property to identify a dry area downhill from your water runoff source and at least 10 feet away from your house. Avoid areas near your septic system and where water pools naturally.
How to Create . . .
For the garden, dig a shallow (4 to 8 inches deep) basin. Next, dig a shallow trench (3 to 4 inches deep) from the source of water runoff to the uphill edge of the basin. Line the trench with landscaping fabric and gravel.
Although the garden may be on a slope, the basin should be level to evenly distribute water. Use the stakes, string, and level to determine if you've dug uniformly. Pound the stakes into opposite sides of the basin and tie the string across, using the level to make it even. The string will show any areas that need further digging.
Using soil left over from digging out the basin, form a packed, rounded lip (5 to 6 inches high) around the edge opposite from where water enters the garden. This artificial embankment keeps water from overflowing the basin during heavy rainfall, giving the soil time to absorb the excess. You can also line stones around the edge to reinforce the wall.
Ideal Soil Composition
The soil in the basin should have a sandy, porous texture. If the soil contains too much clay or is dense and wet, replace a 6-inch layer half with sand, a quarter with compost, and a quarter with topsoil. This mixture will drain quickly into the earth and prevent any longstanding pools.
What to Plant
Plant your rain garden consciously since the soil at different levels in the basin is exposed to water for different amounts of time. The bottom of your garden is the deepest and therefore flooded the longest, while the middle layers and outer edge become increasingly dry. The following list describes what characteristics to look for when deciding what to buy.
Bottom: Use water-loving perennials and native plants with well-established root systems (e.g., tall grasses and ferns).
Middle: Use perennials and native plants that require less watering, as well as small shrubs.
Outer Edge: Use drought-tolerant garden plants and flowers because the edge will receive the least amount of water.
Use starters or fully grown plants for your garden. Avoid planting seeds as they are likely to be washed away. After planting, use mulch to minimize weeds.
Future Maintenance
During the first few rains, check that the rain garden is draining properly and that no plants have become dislodged. Before long, your rain garden will be self-sustaining. Whether in drought or during a flood, sit back and enjoy your self-sustaining rain garden oasis!