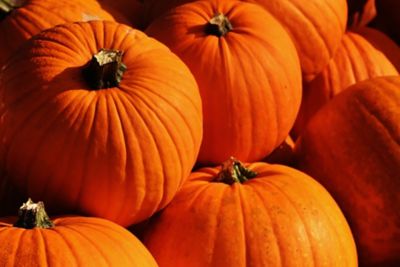 Decorative and Edible Pumpkin Varieties
Benjamin Kilbride, Editorial Assistant at The Old Farmer's Almanac
There's no better way to get into the fall spirit than decorating windowsills, decks, and yards with jack-o-lanterns while munching on hearty pumpkin snacks!
Decorative Varieties
• Jack-Be-Little (Miniature size): 3 to 5 inches in diameter, less than 1 pound. Jack-Be-Little make a cute addition to the center of the table, by windows indoors, or resting on mailboxes.
• Autumn Gold (Intermediate size): Yellow when immature, 8 to 15 pounds. Autumn Gold is a classic jack-o-lantern, known for its uniformly orb-like shape.
Edible Varieties
• Kakai (Small size): Uniform shape, unique orange and green stripes, 5 to 8 pounds. Kakai seeds have no hard shell and are perfect for eating raw or roasting with oil, salt, and freshly ground black pepper.
• Happy Jack (Large size): Uniform shape, dark orange color, 15 to 25 pounds. Good for cooking for a family and some company, roast it whole or purée it for baking.
• Atlantic Giant (Jumbo size): True giant, 50 to 100 pounds. Atlantic Giant is excellent for bulk cooking during holidays, or for freezing to be eaten later in the winter.
Recipes From the Harvest
Enjoy every part of the pumpkin with these delicious recipes.
Crunchy Pumpkin Seeds
Let no part of the pumpkin go to waste! Enjoy these baked pumpkin seeds as a delicious healthy snack, packed with omega 3 oils and antioxidants.
INGREDIENTS
2 cups pumpkin seeds, rinsed
1 tablespoon olive oil
1 teaspoon Kosher or sea salt
INSTRUCTIONS
Preheat oven to 350°. In a medium-size bowl, toss seeds in oil to coat. Spread on a rimmed baking sheet and sprinkle with salt. Bake about 10 minutes and stir. Bake 5 minutes longer, or until lightly toasted. Transfer to a large shallow plate to cool before serving.
If you prefer, you may toast seeds on the stovetop. Warm a large cast-iron skillet over medium heat. Add oil, then seeds, and stir well to coat. Spread mixture in an even layer; stir often until seeds are lightly toasted. Season with salt. Transfer to a large shallow plate to cool before serving.
Yield: Makes about 2 Cups.
Pumpkin Macaroni and Cheese
Add to an American classic with rich and creamy pumpkin from the garden
INGREDIENTS
1 pound pasta, your preference
2 tablespoons butter
1/2 cup chopped onion
3 cloves garlic, chopped
2 tablespoons all-purpose flour
1-1/2 cups milk
2 cups freshly shredded sharp cheddar cheese, divided
1 cup pumpkin purée
2 tablespoons chopped fresh sage
salt and freshly ground black pepper, to taste
1/2 cup seasoned bread crumbs
INSTRUCTIONS
Preheat oven to 350ºF. Grease a large casserole. Cook pasta al dente in boiling salted water.
In a deep skillet, melt butter over medium heat. Add onions and garlic and cook until soft, about 5 minutes. Add flour and stir to form a paste. Cook for 2 to 3 minutes. Slowly whisk in milk until smooth. Whisk in 1 cup of cheese. When cheese is melted, add pumpkin and sage. Season with salt and pepper.
Mix pumpkin mixture with pasta and spread in prepared dish. Mix together remaining cheese and bread crumbs and sprinkle on top. Bake for 30 minutes, or until topping has browned.
Yield: Makes 6 to 8 servings.
Browned Butter Frosted Pumpkin Bars
Tangy cranberries stud these luscious, spicy pumpkin bars.
For Bars:
INGREDIENTS
1-1/2 cups all-purpose flour
1-1/4 cups sugar
2 teaspoons baking powder
2 teaspoons ground cinnamon
1 teaspoon baking soda
1/2 teaspoon ground ginger
2 cups pumpkin purée
3/4 cup (1-1/2 sticks) salted butter, melted
3 eggs
3/4 cup chopped sweetened dried cranberries (optional)
INSTRUCTIONS
Heat oven to 350ºF. In a bowl, combine flour, sugar, baking powder, cinnamon, baking soda, and ginger. Stir in pumpkin, butter, and eggs; mix well. Stir in cranberries (if using).
Spread batter into ungreased 15x10x1-inch jelly-roll pan. Bake for 20 to 25 minutes, or until toothpick inserted into the center comes out clean. Cool completely. Cut into bars.
For Frosting:
INGREDIENTS
1/2 cup (1 stick) salted butter
4 cups confectioners' sugar
1 teaspoon vanilla extract
1/4 to 1/3 cup milk
INSTRUCTIONS
In a 1-quart saucepan over medium heat, melt butter, stirring constantly and watching closely, until butter just starts to turn golden brown (3 to 5 minutes). Immediately remove from heat. Pour into a bowl and cool for 5 minutes. Add sugar and vanilla to cooled browned butter and mix well. Stir in enough milk for desired frosting consistency.
Spread frosting over cooled bars.
Yield: Makes about 5 dozen small bars.