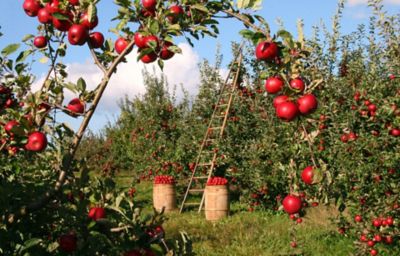 Pruning Fruit Trees
Benjamin Kilbride, Editorial Assistant at The Old Farmer's Almanac
Learn how to properly prune and maintain fruit trees to keep them healthy and producing the best harvest possible.
Why Is It Important to Prune?
Pruning allows fruit trees to develop branch structures that will be able to support a heavy crop load, increases air circulation to decrease disease, and improves sunlight penetration to promote healthy flowering.
When Should Trees Be Pruned?
After the initial pruning when fruit trees are first planted, the best time to prune is in late winter or early spring, when the trees are still dormant and before the buds open.
General Steps for Pruning Fruit Trees
1. Eliminate any diseased, damaged, or dying branches first, as they can be a source of sickness during the upcoming season. For example, apple trees can contract fire blight, which in the spring forms cankers that will spread bacteria to other trees.
2. Remove most of the vigorous upright growth from the past year. These vertical growths are called water sprouts, reaching heights of up to 6 feet for peach trees. The sprouts will create excessive shade and take away nutrients best used in other parts of the tree.
3. Cut any branches that are growing over another limb or toward the center of the tree—these branches will rub against other limbs and rub away the bark, providing an entry point for insects and disease. Another problem with these branches is that they will shade lower limbs, hindering flower production in some areas.
Some Helpful Tips for Pruning
• Stand back and plan the cuts to be made before beginning. Taking a few minutes to consider all of the options can save a lot of time in extra pruning later on.
• Make the most drastic removals first to limit the number of secondary smaller cuts.
• Use sharp tools to make clean cuts, which will decrease both the chances of harming the tree and the amount of effort required to prune.
• Cut just above an outward-facing bud—this is where next year's growth will start.
• If removing an entire limb, prune right up to the base of the branch but avoid cutting into the main branch or trunk. Cutting too deep can damage the tree and create entry points for insects and disease.
• Every now and then, take a step back again to get a better perspective on your overall work.