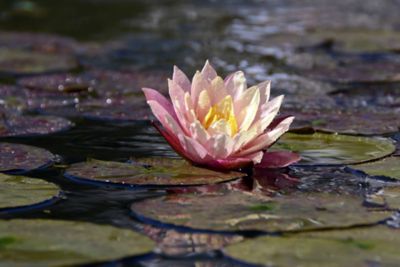 Stock Tank Backyard Pond
Benjamin Kilbride, Editorial Assistant at The Old Farmer's Almanac
Transform an unused stock tank into a personal pond, bursting with its own tiny ecosystem for your enjoyment.
Why Make a Stock Tank Pond?
Ponds are a naturally thriving center of life—converting a stock tank into a small pond brings wildlife closer to home. By watching it, you can learn how a pond habitat functions as its own ecosystem and changes over the seasons. A stock tank pond also makes for a unique and beautiful addition to the backyard, creating a sense of peace and tranquility.
How to Make a Backyard Pond
You Will Need . . .
a round galvanized stock tank (4 feet in diameter, 2 feet deep)
a bag of sand
4 concrete blocks
an assortment of stones and rocks
native water plants
2 or 3 fine-mesh plant baskets
loam-based or aquatic compost
pea gravel
native flowers
tools (as needed): shovel, carpenter's level
Pick a Location
The pond should receive sun and shade at different times of day—this allows for a variety of growing conditions. Find an area that is as level as possible.
Lay the Foundation
Spread the bag of sand evenly over a 4-foot-diameter area. Flatten the sand with the back of the shovel. Use the carpenter's level to make sure that the surface is flat.
Move the Stock Tank
Place the stock tank on the sand (this may take two people). Lay the four concrete blocks inside the tank on their short end so that they stand tall. Ensure that they are evenly spaced. Top the concrete blocks with a variety of stones and rocks of different sizes, creating areas that will be above the water line on which birds and other wildlife can rest.
If there are any extra rocks left over, place them all the way around the outside edge of the tank to give the pond a more natural look.
Fill the Pond
Fill the tank with roughly16 inches of water. Begin to plant a few aquatic plants such as water lilies in the pond.
To plant water lilies, get two or three older plants from a local nursery. Place each in a fine-mesh plant basket and fill in the extra space with loam-based compost, leaving 1 inch of space at the top. Fill the last inch with prewashed pea gravel. Place each of the plant baskets underwater on the bottom of the stock tank pond so that the lily leaves stretch to the water surface.
Plant a Surrounding Garden
Help to attract local pollinators by planting native perennial flowers around your pond. Native species of flowers vary from region to region, but the general qualities to look for are the same. Plant flowers that have single tops (e.g., daisies and marigolds) and a variety of flowers that bloom at different times during the season to ensure that there is always food for pollinators.
Use at your own risk. Follow your local city ordinance.