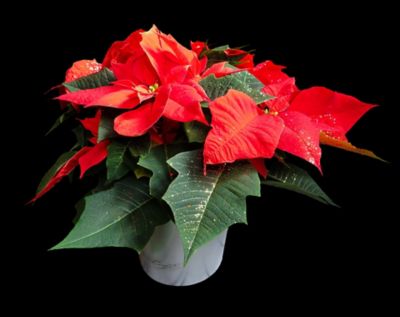 Proper Poinsettia Care
Benjamin Kilbride, Editorial Assistant at The Old Farmer's Almanac
Give your poinsettia the care it needs to be healthy and to produce a stunning bloom.
What Are Poinsettias?
Poinsettias are tropical plants native to Mexico. They are a perennial shrub that can grow 10 to 15 feet tall in their natural environment. In Mexico, poinsettias are called "Flowers of the Holy Night," referring to a 16th-century legend. The story tells of a child who sets a handful of common weeds by the Christmas church altar, a gift for Jesus. The bouquet suddenly bursts into crimson flowers in the shape of a star. The event created the first association of poinsettias with Christmas.
Basic Poinsettia Care
Heat
Poinsettias require temperatures between 60° and 70°F during the day to be healthy. To extend the bloom time, move the plant to a cooler room at night (55° to 60°F). Place away from doors that open and close often—poinsettias don't tolerate drafts or changes in temperature.
When transporting outside in the cold, keep the plant wrapped—exposure to low temperatures can injure leaves and shorten the overall life of the plant. Once indoors again, unwrap the plant immediately to avoid damaging leaves or stems.
Light
Place poinsettia plants by a window that receives light all day long.
Note: Try to keep the poinsettia's leaves from touching cold windowpanes.
Watering
Water the plant only when the soil feels dry to a depth of 1 to 2 inches. Soak the soil enough that water reaches to the bottom of the pot.
How to Encourage a Second-Year Bloom
Poinsettias keep their flowers for several months. After the first bloom, there are a few things that need to be done to prepare for a second bloom in the following year.
Late Winter
Give the plant a liquid houseplant fertilizer one to two times per month or according to the directions on the product label.
Early Spring
Remove dead or wilted leaves as they appear. In early March, when blooming is reaching a close, side shoots develop below the flowers. Cut most of the old flowering stems back (but leave a couple) for a clean-looking plant the next year.
Summer
If the poinsettia is looking crowded in its pot, repot it in a larger vessel. Use a well-draining potting soil containing either peat moss or vermiculite.
Fall
To force the poinsettia to bloom again, keep the plant in complete darkness every night from 5:00 p.m. to 8:00 a.m. from late September to early December, or until red color begins to show in the bracts (modified leaves).