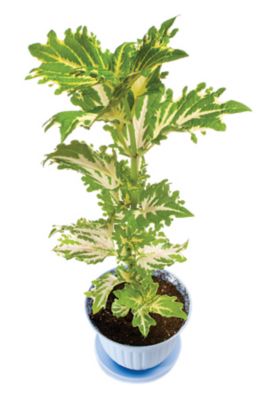 Overwintering Plants
By Jodi Torpey
At the end of every gardening season, there's a rush to save the seeds from favorite garden plants such as heirloom vegetables, herbs, and flowers. But have you considered trying to save the plants, too?
Gardeners in areas with freezing winter temperatures can keep some of their annuals and tender perennials by overwintering them indoors until spring. One benefitis saving money on next season's plants, but it's also away to keep a pet plant alive from year to year.
Not every beautiful summer plant can be saved, but many can. Good candidates for overwintering include begonia, bougainvillea (and other tropical plants), coleus, fern, fuchsia, geranium, ivy, lantana, purple fountain grass, sweet potato vine, and even ornamental peppers.
Gardeners have three approaches from which to choose:
Bring Containers Indoors
Containers of summer plants are easy to bring inside to overwinter. Wash leaves, including the undersides, to get rid of any insect hitchhikers and place pots on a sunny windowsill.
If garden plants haven't been harmed by frost, they can be dug up, repotted, and brought inside to grow like temporary houseplants, too. Select only healthy plants that show no signs of disease.
Dig up plants with plenty of roots and brush away most of the garden soil. Replant in a container filled with potting soil and water it.
Clip off any dead leaves and prune plants to fit the container, but remove no more than half their size. Disinfect shears with soapy water or rubbing alcohol between plants. Check for insects and treat plants before bringing them indoors.