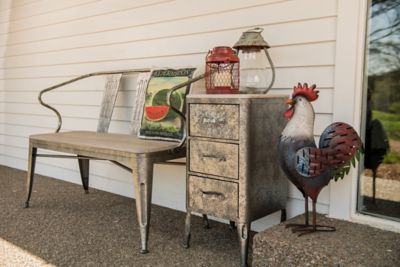 Outdoor Living Trends
Even if warm temperatures haven't quite made it to your neck of the woods, it's never too early to start planning for summer. Fresh new outdoor living spaces are the perfect way to enjoy the long days and warm evenings of everyone's favorite season. Sprucing up existing outdoor rooms with new furniture, fabric or foliage brings new life without breaking the budget. Whether it's more space to accommodate a green thumb or the perfect fire pit for family gatherings, it's all about creating outdoor spaces that are uniquely yours. The following are a few ideas to help you get started.
Stylish and Sturdy Furniture
Cozy couches and sturdy coffee tables are finding their way out of the living room and onto the patio this summer. The right fabrics and designs make previously wicker-only zones comfortable and durable season after season. Choose couches, ottomans and easy chairs that fit your space just like you would for any other room of the house. Furniture with white, natural wood or teak frames give a beach or lake-house look to your own backyard. And don't worry too much about matching every piece, especially if you're going for a more eclectic look for your patio or outdoor dining room. Fabrics should be durable and water-resistant while looking light and fresh. Patterned fabrics have a tendency to fade, so choose carefully if your furniture will be in direct sunlight for long periods each day.
Fireplace Options
Everyone loves a cozy fire, especially on late summer evenings when fireflies are buzzing and breezes are cool. Fireplace options for outdoor living spaces are many and depend primarily on the purpose for the fire. If you're planning on cooking over wood or gas flames, consider a fireplace with an attached grill area. If your fireplace is serving as the anchor for an outdoor living or dining room, plan a full-sized fireplace made of brick, stone or stucco with a hearth and mantel. Table-top designs, fire pits and chiminea-style fireplaces are great options for smaller spaces or the dedicated fire pit area of your yard. Two-sided fireplaces with a seating area on one side and cooking area on the other make a dramatic statement. All fireplace options can be wood- or gas-burning depending on your preference or local building ordinances.
Outdoor Cooking
Summer is the perfect time for outdoor cooking. Both grilling and smoking allow home cooks the chance to make tasty, healthy meals in the great outdoors. Many homeowners can use their outdoor cooking areas late into the fall and early winter each year, making outdoor cooking a nearly year-round activity. Gas or wood-fired grills and smokers can be built directly into the structure of your patio or outdoor living space, or choose portable options that fit into any covered area or patio design. Pellet smokers and grills are a popular choice this season, as home cooks and barbecue enthusiasts look for ways to make grilling safer by reducing carcinogens in charred foods. And for anyone who loves a wood-fired pizza, stand-alone pizza ovens are taking their place next to the grill in many outdoor cooking areas.
A Place to Play
Outdoor living isn't just lounging on the couch with a good book and beverage. Designing a place to play for grown-ups and children can get you and your guests up and moving during cookouts this summer. And the great thing about most backyard games is they're inexpensive, easy to set up and easy for all ages to play. The key is to keep one area of your yard that is fairly close to your patio or seating area (for spectators) as smooth, clipped, weed-free and clean as possible. Marking off an area with railroad ties or landscaping timbers and keeping pets away can help keep the area fresh and ready to use. Some of this season's most popular yard games include yard dominoes, bocce ball, badminton, giant chess and LED-lighted cornhole.
Patio Gardening
If your idea of outdoor fun on the patio includes indulging your inner gardener, then patio gardening is for you. Patio garden plants serve two main purposes:
Add warmth, depth and color to your patio
Provide a ready supply of fresh vegetables, fruits and herbs for cooking
Choose containers that complement your color scheme and furniture design and that are large enough to accommodate plants as they grow. Choose plants that are hardy to your area and can adapt well to growing in containers. Along with large pots, add variety to your patio garden with wall-hanging planters, free-standing plant shelves and options that allow plants to climb. Make sure all containers have adequate drainage and keep patio plants well-watered, especially in the hottest months. Pay attention to the location of your patio pots so plants are receiving the right amount of sunlight at the right time of day for optimal growth and production.