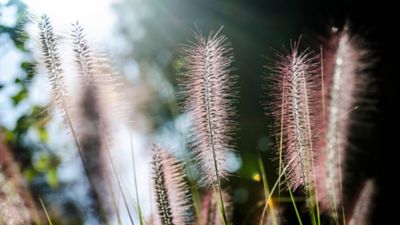 Choosing and Growing Native Ornamental Grasses
Benjamin Kilbride, Editorial Assistant at The Old Farmer's Almanac
Learn which perennial grasses are best for each region and how to grow them.
What Are Native Ornamental Grasses?
Native ornamental grasses are perennial plants local to your region, state, or continent. They are usually much taller than lawn grass and grow in bushy clumps. Native grasses help to give your yard a natural beauty while also being easy to grow.
Why Grow Ornamental Grasses?
Ornamental grasses are both visually appealing and practical to manage—being native plants, they are well-adapted to grow in your climate. Native grasses are drought tolerant and will attract beneficial insects and pollinators. Some species of these grasses are also naturally deer resistant.
Growing From Seed or Transplant
While it's possible to grow ornamental grasses from seed, it's better to purchase transplants from a local nursery or get a division from a friend—the plants will grow much more quickly and start off stronger. Plant and/or divide native grasses in the spring.
Five Native (U.S.) Grasses
These five grasses are native to North America. To find ones specific to your region, consult your local extension service.
Northern Sea Oats (Chasmanthium latifolium)
A showy grass, Northern Sea Oats is known for its gorgeous plaited seed heads. It blooms in late summer to early fall and does well when planted in partial shade under trees or on the edges of forests.
Bottlebrush Grass (Hystrix patula)
As indicated by its name, Bottlebrush Grass seed heads are spiky, resembling a bottlebrush. It blooms in mid- to late summer and does well when planted in cool, shaded areas.
Canada Wild Rye (Elymus canadensis)
A fast-growing prairie grass, Canada Wild Rye grows to be 4 to 5 feet tall and has flexible, bristly seed heads. It blooms in mid-summer and begins in a light green color that fades to straw-gold—plant in full sun in any kind of soil.
Prairie Dropseed (Sporobolus heterolepis)
A short prairie grass, Prairie Dropseed is known for its brilliant emerald-green leaves that cascade outwards. It blooms in late summer and does well when planted in full sun.
Little Bluestem (Schizachyrium scoparium)
Uniquely colored, the foliage of Little Bluestem begins as blue-green in summer that turns a striking crimson in fall. It does well when planted in full sun in dry, sandy soil.