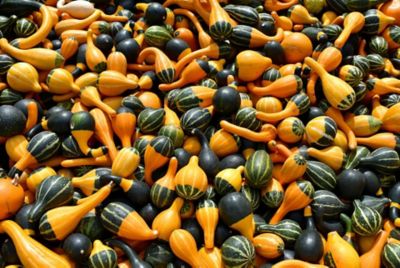 How to Grow a Noodle Garden
Along with moving more, doctors, nutritionist and dieticians agree that adding more vegetables to your diet is the best way to increase overall wellness. And using ordinary vegetables in unique ways can really help. Cutting vegetables into curls and spirals with a spiral slicer results in produce that looks as good as it tastes. Vegetable spirals also make great pasta substitutes with your favorite sauces.
Growing your own vegetables for spiral slices helps you and your family get the healthiest produce possible. But not every vegetable can be easily transformed into spirals and used successfully. Use the following veggie suggestions for growing the perfect "noodle" garden.
Summer Squash
Summer squash varieties make great noodle options because of their dense flesh. The most obvious noodly squash is the spaghetti squash. When split in half and steamed or roasted, the inside of the spaghetti squash separates into long, noodle-like strands that are perfect beneath your favorite pasta sauce. Zucchini is another summer squash known for its versatile, meaty flesh. It has a thin skin, so there's no need to peel before placing in your spiral slicer unless you don't want the dark green stripes in your noodles. Yellow squash is another great option for vegetable noodles, but yellow squash has a thicker outside, so you'll want to peel it before placing in the spiral slicer. Grow summer squashes from seed by planting directly into your garden when there is no more danger of frost. Make a small hill then flatten the top. Poke three or four holes in the top of the hill about two inches deep and drop in two seeds per hole. Cover loosely with soil and pat down. Summer squash plants like full sun and germinate in about seven to 10 days, depending on how warm the weather is. Harvest zucchini and yellow squash when the vegetable is about six to eight inches in length, and spaghetti squash when the vegetable is golden or dark yellow and the skin can't be pierced with your fingernail.
Broccoli Stems
The bushy, green tops of broccoli plants aren't the only part of the vegetable worth eating. Broccoli stems are perfect noodle makers because of their firm and hearty texture. Peel the broccoli stems before placing in your spiral slicer for a more tender result. Broccoli prefers nutrient-rich soil, cool weather and full sun to flourish. In most places, you can expect to get two crops from your broccoli plants, one in spring and one in the fall. The ideal temperature for perfect broccoli plants is between 60 and 85 degrees. Cooler or warmer than that, and the heads form too quickly and stay immature. Spring planting in some areas might require the use of black plastic to help warm the soil. Check with your local farm extension for the best times to plant broccoli in your area.
Once your broccoli is ready to harvest, remove the heads and peel the stems to make broccoli noodles. Use these with pasta sauce or as a tasty broccoli slaw, with mayonnaise, carrots and cabbage.
Root Vegetables
Parsnips, turnips and carrots are crunchy favorites when it comes to making veggie noodles. But these root vegetables are slow growers, so patience is important if you plan to grow your own. Root vegetables like deep, loose, well-drained soil that stays moist. Root vegetables do not like acidic soil, so it's best to send a soil sample to your local extension to find out what your dirt needs before sowing seeds. Plant root vegetables directly into the garden. You can space your plantings for a more continuous carrot harvest throughout the summer, but other root vegetables need a longer growing season. Thinning root vegetables is an important part of getting the best harvest possible, as they need plenty of space to fill out. Peel root vegetables before inserting into your spiral slicer and use raw in salads or roasted as hearty side dishes.
Tractor Supply Co has everything you need to grow the perfect noodle garden. We have a full line of seeds, spades, tillers and soil amending products to meet your gardening needs.