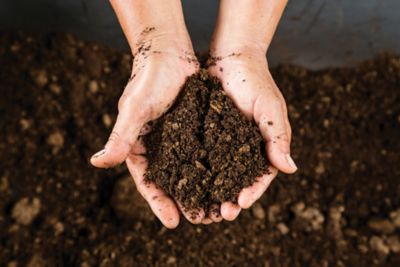 Mulching
Mulching Your Garden
Among the most effective tools a gardener can have are mulch and the know-how to use it correctly. Mulch serves to keep nutrient-stealing weeds down by blocking their light, maintaining moisture in soil, and regulating soil temperature.
Mulches can be organic plant material, such as grass clippings, shredded leaves, straw, shredded bark, pine needles, compost, or thin layers of newspaper. Or they can be a long-lasting inorganic material, such as plastic sheeting, old carpet, or burlap bags.
After arranging and leveling the mulch, pull it back an inch or 2 from the plant stems. This allows water and air to reach the plant and prevents stem rot from contact with the mulch.
THE 3-INCH GUIDELINE
Effective organic mulch must be at least 2 inches deep, but 3 is better. This not only keeps moisture from evaporating from the soil, but this depth keeps weeds under control, because a 3-inch layer prevents sunlight from reaching weed seedlings, so they die off.
If you're applying a finer mulch, such as compost, spread about 4 inches of mulch around vegetables, herbs, and other plants; this will leave about a 3-inch layer after the mulch settles. If you're using coarser materials, such as straw, initially apply more — about 6 inches or thereabouts — so that you'll be left with a 3-inch layer of mulch after the coarser mulch settles.
Keep in mind that as mulch settles, it gradually decomposes, so you're likely going to have to add mulch during the growing season.
WHAT'S THE BEST KIND OF MULCH?
There is no best, one-size-fits-all kind of mulch. Instead, choose what works best for your garden and pocketbook.
However, with vegetable gardens, which last a season, it's best to choose mulch that will break down by the end of the season, such as compost or grass clippings. With large bark mulch, you'll be raking it off at the end of the season.
If your soil is poor, choosing a finer mulch that decomposes more quickly can help improve your soil. You'll have to re-apply this mulch more often, to maintain the 3-inch depth, but you'll be enriching the soil for future gardens.