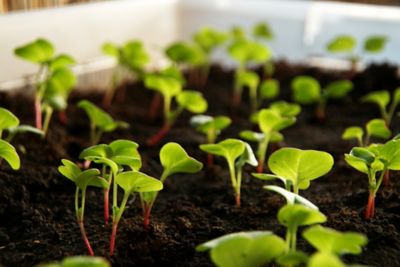 How to Plant Late-Season Crops
Benjamin Kilbride, Editorial Assistant at The Old Farmer's Almanac
Extend your harvest into the fall by following these cold-season gardening techniques.
Choose Quick-Maturing and Cold-Resistant Vegetable Varieties
When selecting your late-season crops, pick vegetables that are naturally cold-resistant to prepare for cool fall weather and the possibility of frost. Also, choose quick-maturing varieties of those vegetables to beat the clock, as there are only a few months (or weeks, depending on location) remaining in the growing season.
Kale varieties: 'Russian Red' (40 days to maturity), 'Dwarf Blue Curled Vates' (55 days)
Grow kale for its high nutrient content and prolific growth. Harvest after 2 to 3 weeks, when the leaves are only 4 inches tall, or later for larger leaves. Enjoy raw in sandwiches or salads, steamed, or in stir-fries.
Lettuce mix varieties: 'Tango' (32 days), 'Red Sails' (45 days), 'Red Salad Bowl' (50 days), 'Rouge d'Hiver' (60 days)
Pick lettuce mixes early,after 14 to 21 days, as baby greens, cutting them down to 1 inch above the soil line at every harvest. Toss together for a fresh salad or add them to stir-fries or egg dishes.
Radish varieties: 'Cherry Belle' (22 days), 'Comet' (25 days), 'Early Scarlet Globe' (23 days)
Radishes are an easy-to-grow root crop. Radishes add a juicy crunch, zesty flavor, and splash of color to salads and stir-fries, or eat them raw for a quick snack!
Scallion varieties: 'Precedent' (85 days), 'Arsenal' (95 days), 'Early Yellow Globe' (110 days)
Don't let the days to maturity put you off from growing late-season scallions: You can start harvesting them just 21 days after planting, or when the shoots are 6 inches tall. To harvest, cut the green shoots 1 inch above the soil every couple of weeks. Scallions will continue to grow back for a few months or until the first deep freeze.
Sugar snap pea varieties: 'Sugar Ann' (52 days), 'Early Snap' (70 days), 'Sugar Snap' (70 days)
Sugar snap peas are self-pollinating and cold-resistant, perfect for the tentative late-season gardener. Once sugar snap peas reach maturity, they will produce for 3 to 4 weeks, so be ready to harvest regularly. Eat sugar snap peas off the vine for a sweet treat, lightly steam them, or toss them into stir-fries.
Swiss chard varieties: 'Lucullus' (50 days), 'Rainbow' (55 days)
Grow Swiss chard for a green that is packed with vitamins.Swiss chard can be harvested early, after 21 to 28 days, for baby greens or left to grow to full size. Quickly blanch (cook in boiling water for 2 to 3 minutes) Swiss chard leaves to retain most of the nutrient content, or toss them raw into stir-fries or egg dishes.
Lengthen the Growing Season With Row Covers
Plastic row covers, supported over plants with hoops or sticks, lengthen the growing season for cold-hardy vegetables by 3 to 4 weeks, insulate plants at night from freezing temperatures, raise daytime air and soil temperatures, and protect crops from potentially damaging winds. Save and store the covers through the winter, as they can provide the same benefits in your early spring garden.