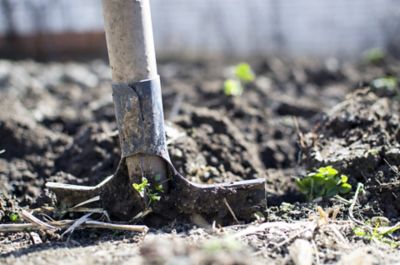 The Benefits of Lasagna Gardening
Benjamin Kilbride, Editorial Assistant at The Old Farmer's Almanac
If you're tired of the yearly soil tilling or are just interested in trying something new, learn how to layer your garden lasagna style!
What is Lasagna Gardening?
Lasagna gardening is the method of layering soil and compost on top of the old instead of tilling the soil every year.
Why Try Lasagna Gardening?
The benefit of layer gardening is that the structure of the soil is preserved—the garden better retains water, is resistant to erosion, and produces fewer weeds. Of course, the best part is that there is significantly less manual labor involved each year once the garden is converted to lasagna style! There will be no more cultivating and turning over the soil or back-breaking, knee-popping, sore-hands weeding.
You Will Need . . .
shovel
wheelbarrow
gloves
cardboard boxes (remove all tape)
Lasagna Layering Ingredients
You will need some (but not all) of the items found below for the "green" and "brown" compost materials.
"Green" Compost Materials
grass clippings
fresh manure
coffee grounds
plant trimmings
vegetable excess
"Brown" Compost Materials
black-and-white newspapers (color ink is toxic to plants)
dead leaves
straw
woodstove ash
How to Make a Lasagna Garden Bed
Choose the area that you want to use for your new garden bed. It can be an existing bed, open soil, or even a patch of lawn. You'll need to avoid stepping in the soil, so design your bed(s) with plenty of walking and kneeling space for easy access to your crops. You can begin at any time, but it takes several months to a year for the new bed to be usable. The best time to start is in the fall so that the soil has an entire winter to prepare.
Flatten and lay out cardboard boxes over the entire planned (or existing) bed area. The cardboard will kill all grass and weeds underneath and deteriorate after about 3 years. Spread 1- to 2-inch layers of alternating mixed green and mixed brown compost material over the cardboard until the pile is about 8 to 10 inches high. Optionally, you can continue adding layers to a height of 2 to 3 feet as the pile will shrink over time due to the slowly composting organic material. It does not matter whether you end with green or brown material. Leave the new bed for several months to a year, or until bed has compacted and composted into dark, rich soil.
How to Maintain the New Garden Bed
At the beginning of each growing season, spread a 1- to 2-inch layer of mulch or dead leaves over the top of the bed. The mulch helps to prevent any remaining weeds from growing and keeps the soil cool and moist. After the harvest in the fall, pull out all of the plants from the season and spread them over the soil. They will add to the existing nutrients and help the next year's vegetables to grow.