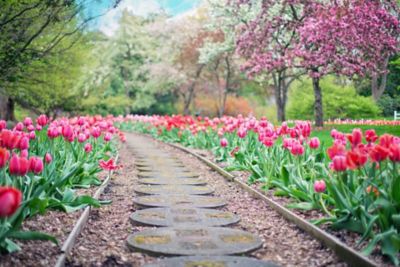 Landscape Edging
Benjamin Kilbride, Editorial Assistant at The Old Farmer's Almanac
Use landscape edging to create neat and orderly gardens, paths, and lawns.
What Is Landscape Edging?
Landscape edging is a material that is used to form a barrier between separate sections of lawn and garden space. The edging is usually inserted a couple of inches deep into the ground.
Why Use Landscape Edging?
One of the best uses of landscape edging is when planning a new garden or redesigning an old one. Plants don't always grow the way you want them to or stay contained in nice, predetermined areas. Edging can help to keep the lines of paths clear, stop forests from encroaching on lawns, and separate gardens from everything else.
Types of Edging
Learn about the different types of edging so that you can choose the right kind for the job that you have in mind.
Plastic
The biggest advantage to plastic landscape edging is the diversity. There are many different design options—some prevent frost heave or flood damage, while others are short or designed more simply to reduce the price.
Wood
Mainly used for aesthetics, wood is great for straight paths or the edge of patios. The best options for wood edging are rot-resistant cedar, cypress, or black locust. Also, try cheaper pressure-treated wood for extra resistance to moisture.
Metal
A strong long-term option, metal edging will last for years—it won't break or chip easily like plastic or rot like wood. Line areas that receive heavy traffic with metal edging.
Stone
Great for flower beds and curvy paths, stone edging is both pleasing to the eye and long-lasting. While being the more expensive option, stone edging is a worthwhile investment over time.
How to Install Any Kind of Edging
You Will Need . . .
String
Shovel
Hammer (optional)
1. Mark on the ground where the edging will go, using lengths of string.
2. Where the string has been laid, dig a trench as wide as the edging and deep enough that about 1 inch of edging will remain exposed.
3. In the case of plastic or metal, use a hammer to gently tap the edging pieces into place. If using wood or stone, push excess soil up against the edging to keep it secure.