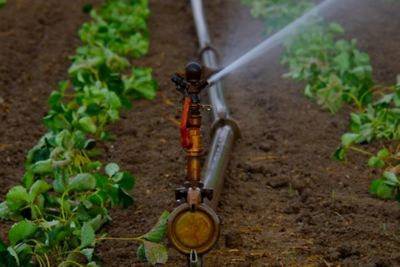 Irrigation Techniques
Benjamin Kilbride, Editorial Assistant at The Old Farmer's Almanac
Learn about the different ways that you can irrigate your farm, garden, or backyard!
Why Irrigate?
Watering your land by hand can take a long time and can be wasteful, especially in regions subject to drought. Setting up an automated irrigation system can save you time, money, and water. While a system may take a while to set up, keep in mind that it is an investment!
Choose a Type of Irrigation
Surface irrigation
One of the oldest forms of irrigation, surface irrigation is the distribution of water over soil in channels and toughs—water moves by gravity flow. The system is built so that the entire area that is being watered is on a slight slope, just enough so that water naturally moves from the higher land to the lower. This technique mirrors nature, similar to how streams and rivers flow in mountains.
Advantages
There is little equipment required so it's cheap. Once the irrigation system has been set up, it's easy to water large areas.
Disadvantages
Surface irrigation requires large amounts of water, erodes the soil, and dilutes the runoff with any chemicals or manure used.
Sprinkler irrigation
A modern development, sprinkler irrigation is the use of high-pressure hoses or pipes that spray or sprinkle water over a large area in a fine mist. Sprinkler irrigation uses either permanent or temporary equipment, depending on the need. Permanent sprinkler systems are great for small-scale operations, while temporary systems (such as pipelines on wheels) are used on large-scale farms to cover big areas over time.
Advantages
Sprinkler systems use less water than surface irrigation and can be turned off or on depending on when water is needed.
Disadvantages
Sprinkler equipment is expensive to purchase and maintain.
Drip irrigation
Similar to sprinkler irrigation, drip irrigation is the use of low-pressure hoses or pipes covered in small holes that allow water to trickle into the soil. The system is spread on the ground at the base of crops to allow maximum efficiency with little water loss. Drip irrigation systems can be permanent or temporary, depending on the size and scale of the farm.
Advantages
Drip irrigation systems use very little water and aren't expensive to purchase or maintain. They also don't erode the soil.
Disadvantages
Setting up a drip irrigation system over a large area can take a long time because there needs to be a pipe or hose along every row.