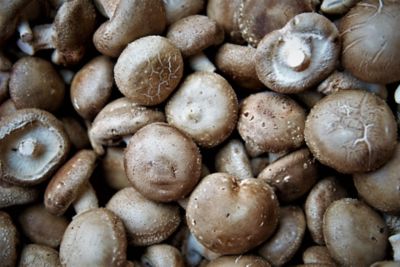 Tips on How to Grow Mushrooms at Home
Benjamin Kilbride, Editorial Assistant at The Old Farmer's Almanac
What Are Mushrooms?
Mushrooms are a type of fungus that extracts nutrients from decomposing trees, leaves, and other organic material on forest floors. The fleshy part that we eat is actually the fruiting body of the mushroom. The main growth of the mushroom is underground in thin root-like structures called mycelium.
Why Grow Mushrooms at Home?
Despite what you might think, growing mushrooms isn't that difficult. All it requires is some basic knowledge, healthy spores, and a little time. If you enjoy eating and cooking mushrooms as a regular part of your diet, try growing your own!
The Benefits of Eating Mushrooms
Mushrooms naturally lower bad cholesterol levels and are full of protein, vitamins, fiber, vitamin D, and antioxidants. They also can reduce or inhibit the growth of cancer cells!
Note: Not all mushrooms are edible—never eat a mushroom in the wild that hasn't been identified by a reliable expert.
Three Mushrooms to Grow
Start off easy by growing these beginner mushrooms.
Lion's Mane Mushrooms
These white fungi grow in clumps of long, thin stalks and look similar to a lion's mane or beard. Lion's mane mushrooms are great sautéed with vegetables or by themselves with a little butter. To grow these mushrooms, purchase a 5 pound mushroom grow bag from a reputable source that comes with Lion's Mane spores already inoculated into the substrate. You can grow more than a pound of mushrooms in this way.
Pearl Oyster Mushrooms
These fungi grow white stalks topped with small blue-gray caps. To grow pearl oyster mushrooms, you need roughly 2 gallons of used coffee grounds in a two-gallon bucket. Sprinkle the spores into the top inch of coffee grounds. Spray the coffee grounds with a misting of water and cover the bucket with plastic wrap. Punch a few holes in the plastic for airflow.
Shiitake Mushrooms
These fungi grow a classic brown mushroom stalk and cap. They have a unique flavor and are popular in Asian cooking. Shiitake mushrooms are grown on hardwood logs that are moist, well shaded, and protected from heavy wind. It takes between 6 months to a year for the mushrooms to grow their mycelium roots before you can expect any fruiting bodies.