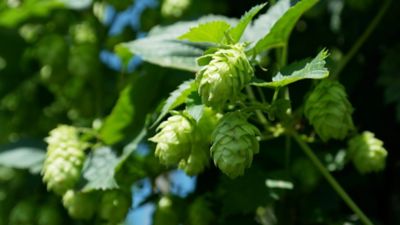 How to Grow Hops for Beer
Benjamin Kilbride, Editorial Assistant at The Old Farmer's Almanac
Learn how to grow your own fragrant hops to make homebrew beer!
What Are Hops?
Hops are green, cone-shape flowers of a female hop plant (Humulus lupulus). Hops are used to give certain beers (most notably India Pale Ales or IPAs) a fragrant aroma and bitter taste to balance the sweetness of other grains. The bitterness is caused by alpha acids in the hops. Before refrigerators were common, hops were also used as a preservative in beer.
Why Grow Hops?
For some brewers, one of the most important ingredients in beer making is fresh-grown hops—the fresher, the better. If you make your own beer, start by growing your own hops to get the best taste!
Varieties of Hops to Grow
American hops
Bold, bright, and aromatic, American hops include varieties such as Cascade and Centennial. They are known for adding strong citrus and pine flavors to beer.
English hops
More subtle than American hops, English hops include varieties such as Fuggle and Pilgrim. They are great for adding mild and delicate flavors and aromas to beer.
Noble hops
The classic hops, Noble hops include varieties such as Saaz and Tettnanger. They are known for adding a rich aroma and mild bitterness to beer.
General Care for Hops
Trellis
Hops grow extremely long and require a trellis. Try a small trellis system to start, stretching a sheet of chicken wire between two fence posts. As the hops plants grow, guide them up the chicken wire.
Planting
Purchase hops rhizomes from a local nursery to make sure that you have a healthy specimen. Plant hops in full sun in the early spring, 2 to 3 inches deep and 42 inches apart (they take up a lot of room).
Soak the roots to get them settled.
Care
Water the hops plants regularly using drip irrigation or a hose to soak the roots. Allow the shoots to grow about a foot tall and then cut all but two of them per plant. Wrap the remaining two up the trellis.
Harvest
When the hops cones are fragrant and green (August to September), they are ready to be harvested. Gently remove the cones by hand or using a pair of small shears. The cones are best fresh, but can used for up to 2 years if dried and sealed in a plastic bag and stored in a warm, dry place.