Grow Native!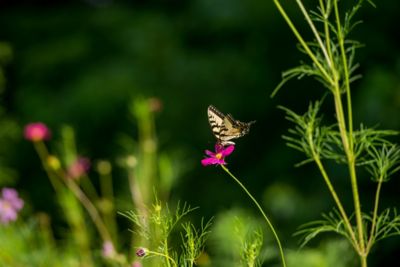 Native plants require much less pampering.
Reap the benefits of native plants.
Contributed by The Old Farmer's Almanac Staff
Use native plants to create low-maintenance, sustainable landscapes. Choosing plants indigenous to your region is smart on many fronts.Environmentally speaking, sustainable landscapes sequester carbon, clean the air and water, and restore wildlife habitats. There are also many benefits for the homeowner. Native plants are adapted to local growing conditions, so they don't require as much pampering as nonnatives—which means less work for you! Once established, native plants can withstand hot, dry conditions and/or frigid temperatures, which provides for a stable landscape; you won't be replacing plants every year—which equals time, labor, and cost savings. Your native landscape will also improve water and energy efficiency, yet another money-saver. And the need for less fertilizer is money in your pocket.
Plan a Native Landscape
Map the area you intend to plant with native species. A map, drawn to scale, will help to determine plant numbers and soil/compost yardage.
Note slopes, drainage spots, and erosion areas—they could provide opportunities. For example, a place where water naturally pools could be turned into a rain garden.
Indicate north, south, east, and west on your map. Sun and wind exposure will help to inform plant selection.
Get a soil test; soil structure, moisture content, fertility, and pH levels also inform plant choices.
Plan to remove nonnatives from your existing landscape to keep them from competing with new plants for resources such as nutrients and water.
Look around to see what grows wild in your region. The idea is to follow nature's lead to determine "ecologically correct" plants.
Pick plants to fit your growing conditions (rather than trying to create conditions to suit your plants).
Think "right plant, right place" when making your selection. The right plant is one that will thrive in the place you plant it.
Use a combination of ground covers, perennials, shrubs, and trees in your landscape to mimic natural plant communities.
Don't fight the site. Be willing to make concessions if something isn't working. For most conditions, there are plants that will thrive there; it is less costly to plant accordingly.
Feel good about your landscape!
By mimicking natural ecological systems, you create healthy and productive home gardens and neighborhood landscapes. You and your landscape are helping to filter air pollutants, absorb rainwater, slow runoff, and reduce toxins in the soil. You are also creating a sense of place; the plants you have chosen belong in your area and make your landscape distinctly regional in its appeal. Also, you get to experience the pleasure of being in a garden full of the sights, sounds, smells, and signs of nature.
When man demands of nature a change so great and so unnatural, she rebels and refuses to submit. –The Old Farmer's Almanac, 1895
Every homeowner's site requires special consideration when planning and installing a native landscape. It's best to consult local resources and professionals who can help to determine appropriate plants for your region. Here are some plant recommendations for general regions of the country:
Native Plants for the Northeast
Bayberry(Morella pensylvanica)
Chokeberry (Aronia arbutifolia)
Highbush blueberry (Vaccinium corymbosum)
Lowbush blueberry (V. angustifolium)
Redosier dogwood (Cornus sericea)
Serviceberry (Amelanchier canadensis)
Sumacs (Rhus glabra, R. copallina, R. typhina)
Viburnums (Viburnum trilobum, V. cassinoides, V. dentatum)
Winterberry (Ilex verticillata)
Native Plants for the Midwest
American hazelnut (Corylus americana)
Bearberry (Arctostaphylos uva-ursi)
Big bluestem grass (Andropogon gerardii)
Climbing prairie rose (Rosa setigera)
Leadplant (Amorpha canescens)
New Jersey tea (Ceanothus americanus)
Northern sea oats grass (Chasmanthium latifolium)
Poke milkweed (Asclepias exaltata)
Vanilla sweet grass (Hierochloe odorata)
Native Plants for the South
American beautyberry (Callicarpa americana)
Blue dogbane (Amsonia tabernaemontana)
Blue wild indigo (Baptisia australis)
Box elder (Acer negundo)
Common yarrow (Achillea millefolium)
Pignut hickory (Carya glabra)
Striped maple moosewood (Acer pensylvanicum)
Sugar maple (Acer sacchaum)
Trumpet creeper (Campsis radicans)
Native Plants for the Pacific Northwest
Goat's beard (Aruncus dioicus)
Miner's lettuce (Claytonia perfoliata)
Paper birch (Betula papyrifera)
Pacific silver fir (Abies amabilis)
Shore pine (Pinus contorta)
Vanilla leaf (Achlys triphylla)
Vine maple (Acer circinatum)
Western flowering dogwood (Cornus nuttallii)
Western yew (Taxus brevifolia)