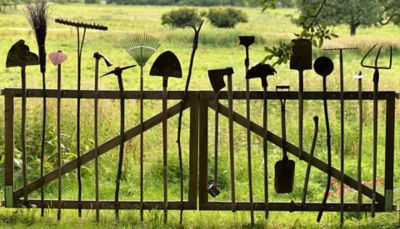 End-of-Season Garden Cleanup
Benjamin Kilbride, Editorial Assistant at The Old Farmer's Almanac
With autumn around the corner, it's time to start thinking about cleaning up the garden for winter.
Clear Garden Beds of Debris
Start the garden cleaning process by harvesting all vegetables and flowers. Pull out all of the weeds, which can harbor diseases over winter and throw them on the compost pile. Next, either till the remaining plants into the soil or pull out the plants—roots and stalks—and add them to the compost pile as well. Be careful not to remove any perennial herbs or flowers during this process.
Amend Garden Soil
After the garden beds have been cleared of weeds and vegetable plants, test the soil. You can purchase a soil pH testing kit or try a more do-it-yourself method with a few household items.
You Will Need:
2 clean bowls or buckets
2 clean 1/2-cup measuring cups
1/2 cup baking soda
1/2 cup white vinegar
Scoop several handfuls of soil from a depth of about 8 inches (where roots grow). Put the soil into one of the bowls. Pour 1/2 cup water into the bowl of soil and mix. Then add 1/2 cup baking soda. If the mixture bubbles and fizzes, the soil is acidic: Add wood ash or lime to the garden to balance the pH. If there is no reaction, scoop several additional handfuls of soil into the second bowl and add 1/2 cup white vinegar. If the second mixture bubbles and fizzes, the soil is alkaline: Add sulfur or peat moss to balance the pH. If there is no reaction to either test, the soil is neutral and requires no change in pH.
No matter the results of the pH test, it's always a good idea to amend the soil in your garden with compost. Spread a 1- to 3-inch layer of compost over the soil and mix or till it to a depth of up to 8 inches.
Plant Garlic Bulbs
Fall—specifically, a month before the first heavy frost—is the best time to plant garlic bulbs. In preparation, amend your garden bed with compost. Purchase bulbs from mail order seed companies, a farmers' market, or your local nursery or greenhouse. Avoid using supermarket garlic, which usually has been treated to last longer on the shelf.
Break apart the bulbs into individual cloves. Plant cloves point up and flat end down, 2 inches deep and 4 inches apart, in rows 10 to 12 inches apart. If you live in areas that get a lot of snow, you may wish to mark the rows with tall sticks or posts to avoid disturbing the garlic bed.
Cover Beds With Tarps
Cover all annual vegetable garden beds (except the portion with garlic bulbs) with tarps or black plastic. Remove the tarps in the spring, just prior to planting the first crops. The tarps will help to reduce the number of weeds that pop up early in the season.
Clean and Put Away Tools
After all other cleanup work has been completed, clean and maintain your garden tools so that they'll be ready to use in the spring.
Use a wire brush to clean rust from metal areas of tools.
Sharpen shears, knives, and trimmers. Wear safety goggles if you do this yourself.
Use a rag to oil tool surfaces and moving parts.
Tighten any loose screws, nuts, or bolts.
Drain and dry all hoses, labeling them to remember where they go in the spring.
Hang all tools and hoses out of the way in a shed, garage, or basement where they will be protected from rain and snow.