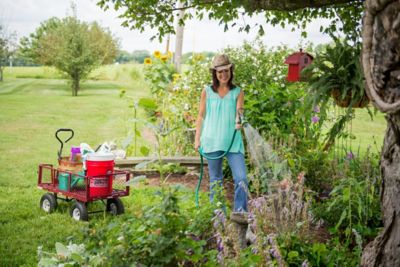 Front Yard Vegetable Garden
With the application of a few simple landscaping techniques, you can turn your yard into a beautiful and delicious vegetable garden!
Plan the Layout
Before you turn over any soil, measure the yard that will become a garden and then transfer the measurements to paper and play around with a few plot plans, sketching out ideas. Make your garden inviting with curvy paths, circular beds, and stone-lined edges. Try adding a centerpiece such as a wooden barrel flowerpot or birdbath stone basin.
Clear the Way
To clear lawn space for a new garden, lay down a tarp or sheet of opaque plastic across the intended area in the fall or late winter. New grass will be unable to grow without light, and any existing will die. Examine the soil—if it has a claylike or hard consistency, break it up with a shovel. Spread a medium layer of compost (4 to 5 inches high) over the new bed and then till everything together.
Begin Planting
Having a vegetable garden does not mean giving up color. Your edible beds can be as vibrant as flower beds with fruits and veggies like these:
For Striking Reds
• Cherry, Roma, and slicing tomatoes
• Strawberries
• Peppers
For Royal Purples and Blues
• Purple varieties of brussels sprouts, cauliflower, and basil
• 'Bull's Blood' beet
• Eggplant
• Cabbage
For Autumn Oranges and Golds
• Pumpkin
• Summer squash
• 'Bright Yellow' chard
• Carrots
• Wax beans
For Silvery Blue-greens and Brilliant Emeralds
• Garden sage
• 'Dwarf Blue Curled' kale
• Sweet basil
Grow Up
Arches, trellises, and fencing can be ornamental and functional. They mark the entrance and edges of your gardenwhile also providing surfaces on which plants can grow. Ideal vegetables to plant at the base of these include polebeans, snap peas, cucumbers, and even squash. This growing method will keep the vegetables clean and make harvest easier.
Accent With Herbs and Edible Flowers
Herbs look great and are pleasantly aromatic. Lavender, sage, thyme, and mint at the edges of your beds create a natural, sweet-smelling boundary. Edible flowers such as nasturtiums, borage, and chamomile add pops of color and taste. Toss nasturtium and borage blossoms into salads and brew chamomile buds into a calming tea. These and other flowers also help to attract pollinators, which increase the yield of your crops and the overall health of your garden.
Simple and Easy
The task of building a new garden or adding to an existing one can be daunting. However, you don't have to do everything all at once. Slowly add to and change your beds over a few months or years by tackling one section at a time and figuring out what works. Every new piece will add beauty to your yard, evolving into a masterpiece of edible color.