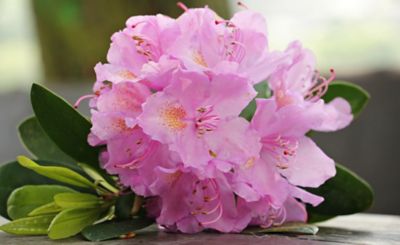 Forcing Spring-Flowering Shrubs to Bloom Early
Benjamin Kilbride, Editorial Assistant at The Old Farmer's Almanac
Even out of season, it's possible to enjoy the vibrant color of spring flowers!
What Is Forcing Early Blooming?
Forcing early blooming is the process of cutting a branch from a spring-flowering shrub, bringing it inside, and placing it in water under the right conditions to encourage it to flower.
Why Force Shrubs to Bloom?
If you're feeling impatient for spring to begin, forcing cut shrubs to bloom is a great way to get a taste (or smell) of spring flowers a little early!
When Can Branches Be Cut?
Branches for forcing can be cut from late January all of the way into spring.
Common Spring-Flowering Shrubs
Here are six examples, with flower colors, of spring-flowering shrubs that are good for forcing:
Azalea—white, orange, red, and purple
Forsythia—bright golden yellow
Hydrangea—white, pink, and purple
Lilac—white, pink, blue, and purple.
Pussywillow—soft white
Rhododendron—white, yellow, pink, red, and purple
How to Force Branches to Bloom
Choose a Few Branches
To begin, identify branches that have plump, swollen flower buds along the stems. There will be both flower and leaf buds on branches, but the flower buds will be slightly rounder and larger than the leaf buds.
Cut at an Angle
After selecting your branches, cut them at an angle with a pair of strong shears or loppers for a clean cut. Branches can be 6 to 18 inches long. Immediately bring the branches inside after cutting.
Place in Water
Fill a tall vase with warm water. Cut the end of each branch again, remove any extra leaf buds low on the branch, and place them in the vase.
Move to a Cool Location
Place the vase and branches in a cool room away from sunlight—a good place is in a basement. Give the branches some time to transition and acclimate to their new environment by leaving them for 2 to 3 weeks. During this time, the buds will begin to swell. Make sure to change the water once a week or anytime it starts to become cloudy.
Display the Blooming Branches
Once the buds open, move the vase and branches out into the open on display. Continue changing the water regularly. Enjoy your early spring flowers!