Vegetable Gardening Tips for Fall Planting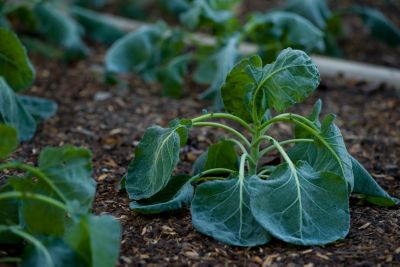 Spinach, chard, collards, and kale welcome cooler weather.
by The Old Farmer's Almanac staff
Sow seeds now for farm-to-fork fall fare!
The vegetable gardening season is not over yet. You can still get a couple more pickin's before the first frost. Sure, the days are getting shorter. But there are still enough hours of sunlight to reap a hefty harvest. Hardy greens like spinach, chard, collards, and kale welcome darker, cooler weather. And lettuces, arugula, and radishes can get by on just 4 hours of sunlight a day.
To get started, you'll need viable seeds. If you're out of them, check your local supply store; there's almost always a decent selection of this year's packets remaining. Lucky southern gardeners, especially those of you favored with mild winters, should look for late-season lettuces, spinach, arugula, Swiss chard, collards, kale, tatsoi, and other Asian greens. With proper care and plant coverings at the ready, you more rugged northerners can pick for a while longer, too. Your options include a medley of lettuces, spinach, and radishes. In either region, look for quick-maturing varieties to help speed things along.
Take a look at your garden, and clear some space.
Gardeners in southern regions: Direct seed into soil rich in compost and mulch with dried leaves or straw to trap warm air. Keep the soil well watered so seeds establish readily. Come harvest time, take only outer leaves of leafy greens like collards, chard, and kale leaving 70 percent of the plant to grow new leaves. Remember: Some plants—arugula, kale, and spinach among them—may go dormant if temperatures dip below freezing, but they will resume growing in early spring.
In northern regions: Direct seed into beds with maximum sun exposure, ideally 4 to 6 hours per day. Keep moisture levels even. (Watering at this time of year is less demanding than in high summer, as soil tends to retain water when night temps are cooler.) Pay attention to frost warnings and plan accordingly: at night, cover plants with newspaper or lightweight bed sheets. Alternatively, protect your plants by growing in cold frames, under row covers, or other season-extending structures.
There are many ways to enjoy autumn greens. Try a red and green mix-and-match sauté—a versatile side dish, lasagna filling, or curry or pasta topping. (Extras freeze well and are handy for quick winter soups.) Keep in mind that leafy greens cook down, so start with big bunches.
Red and Green Mix-and-Match Sauté
Ingredients:
Mixed greens such as collards, kale, bok choy, spinach, arugula, and mizuna (10 to 20 stems)
Red-stemmed Swiss chard (10 to 20 stems)
Olive oil
1 red bell pepper, diced
1 onion, sliced
2 cloves garlic, minced
Salt and pepper, to taste
White wine (optional)
Wash and partially dry chard and other greens (moisture left on the leaves steams them when sautéing, reducing the need to add additional oil). Remove stems and set aside. Stack leaves and cut them crosswise into 1-inch ribbons, keeping different varieties separate. Cut all stems into ½-inch pieces. On medium-low heat, add enough olive oil to coat the bottom of a large, tall-sided skillet. Sauté stems with red pepper and onion for 1 to 2 minutes, then add garlic. When softened, stir in the toughest greens (collards, kale). As leaves soften, add the next-toughest greens (Swiss chard, bok choy, spinach), followed by salad greens (arugula, mizuna). Baby greens go in whole in the last minute of cooking. Add white wine or olive oil to prevent sticking. Stir constantly and taste often, adding salt and pepper, as desired. Makes 4 servings.