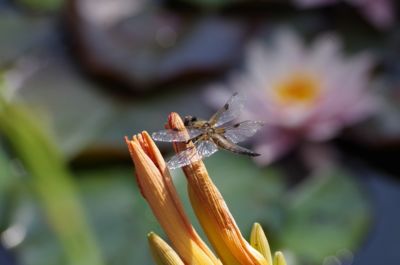 5 Tips to Eco-Friendly Garden
Contributed by The Old Farmer's Almanac Staff
What does "eco-friendly" mean? What is an eco-friendly garden? What makes a garden eco-friendly? What are eco-gardening practices?
The term "eco-" in the phrase "eco-friendly garden" refers to "ecology"—the interactions between organisms and their environment. Such a garden or landscape is one that is designed with nature and the environment in mind. You may also know the practice as "environmentally friendly" or "sustainable gardening."
Your gardens may already incorporate eco-friendly practices. Read on and see, then consider other ways to make your garden the eco-friendliest in the neighborhood!
1. Choose the proper plants.
The eco-friendly rule of thumb is to go native: Choose plants that are native (local) to your region or a place like yours (one with similar climatic conditions). Consider each plant's needs and group those that are similar: Put shade lovers together, heavy drinkers together, pH partners together, and sandy vs. loamy soil seekers together. Match plants and conditions and think of your property as having different zones. The results will save you time, effort, and replacement expense.
2. Catch the rain.
A rain garden is a shallow area with highly permeable (not hard) soil that collects and absorbs rainwater. The water can be runoff from paved areas (driveway, walkways) or from rooftops, via gutters and downspouts. The spot should be integrated into the landscape, complementing your overall plan. Plant the area with water-tolerant plants (they like wet feet)such as perennial iris, canna, and elephant's earand cinnamon, marsh, and holly ferns. Alternatively, install a rain barrel to catch water and use it on your plants.
3. Welcome birds.
A healthy ecosystem invites a wide variety of wildlife into it. Local birds visit gardens in search of insects, berries, and seeds to consume, as well as shelter. Birds also seek water. Install or make a birdbath for them! It should be shallow (1 to 1.5 inches deep) and contain a few small stones or pebbles for birds to rest on.
4. Beckon bees and other insects.
Insects of all sorts—wasps, flies, ladybugs, butterflies and moths, and beetles—are beneficial to plants for pollination and reproduction and pest elimination. (Spiders, having eight legs, are not considered to be true insects—which have six legs—but spiders are considered beneficial because they prey on many "bad" insects.) A garden with diversified sources of nectar (e.g., shrubs, trees, and flowers—ideally, natives) that bloom from early spring through late fall can attract insects and ultimately benefit the entire garden.
5. Give grass a chance.
Eliminate the chemical pesticides you spread on lawns in favor of alternatives that are healthier—healthier for you, for the lawn, and for the environment. Start by checking your lawn's pH (acidity) with a test kit available at most nursery and garden supply stores. Soil pH affects the ability of plants to absorb nutrients. Spread limestone to raise the pH level; spread aluminum sulfate to decrease the pH level. Grow grass that is suitable to your needs, not just in terms of climate and soil, but also purpose. Ask your nursery to recommend seed for grass that suits your site. Don't shave the lawn; mow it to be 2.5 to 3.5 inches tall all season. Cut it to about 2 inches in autumn. Water about 1 inch per week and always in the morning; place a measuring cup among the blades to gauge the amount of water used. And, if at all possible, use a hand mower, instead of an electric or gas model. You'll appreciate the freedom from fumes and noise and perhaps sleep more soundly after walking your property.