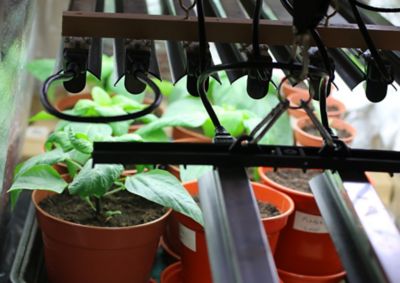 The Fundamentals of Container Gardening
Benjamin Kilbride, Editorial Assistant at The Old Farmer's Almanac
Winter is a great time to keep gardening! You can continue to grow vegetables in the darkest months by using containers indoors.
Why Grow in Containers?
Growing vegetables in containers has the advantage of mobility. Plants can be left outside during the summer, and when temperatures become colder or there is a danger of frost, the pots can be picked up and brought to safety indoors. Keep the plants inside during winter and have fresh food straight through into the spring.
Four Crops to Grow in Containers
Microgreens Mix
Common microgreen mixes usually include kale, spinach, Swiss chard, and lettuce. Select a wide, 4- to 5-inch-deep container—microgreens grow well when provided extra space, but have shallow-growing root systems. Give microgreens plenty of water, especially in dry weather. Harvest the leaves after 3 to 4 weeks or when they are about 3 inches long.
Green Onions
Quick to grow and an excellent addition to soups, salads, and stir-fries, green onions are perfect for container growing. Select a 4- to 5-inch-deep container—green onions have shallow-growing root systems and don't require much space. Water green onions regularly, whenever the top of the soil feels dry to the touch. Remove the tops delicately when harvesting, 1 to 2 inches above the soil, and the little roots will grow another head of greens!
Radishes
Radishes are an easy-to-grow root crop. Radishes add a juicy crunch, zesty flavor, and splash of color to salads and stir-fries, and make a quick snack eaten raw! Select a medium-depth container (6 to 7 inches deep) to give radishes enough room to grow.
Sugar Snap Peas
Sugar snap peas are self-pollinating and cold-resistant. Eat sugar snap peas off the vine for a sweet treat, lightly steam them, or toss them into stir-fries. Select a 6- to 7-inch-deep container to give peas space for their long, water-seeking roots. Peas enjoy wet feet, so water them plenty. Begin harvesting the peas when they are 4 to 5 inches long.
Tips for Growing Indoors During Winter
When the danger of frost arrives, carry the containers inside. To supplement the waning light of fall and winter, hang fluorescent or low-energy LED grow lights 3 to 4 inches above the plants. Make sure that the bulbs are not a kind that will heat up over time (such as incandescent), which will dry out or even burn tender leaves. Set a regular cycle by turning on the lights in the morning when you wake up and turning them off when you have dinner (or use a timer): Plants grow better with a consistent day and night schedule.
Over the winter, feed the vegetable plants a liquid fertilizer (follow directions on label for amount and frequency). Make sure that all of the plants have enough to drink—heating homes can make the air dry and sap soil of valuable moisture. Harvest regularly and enjoy fresh vegetables all winter long!