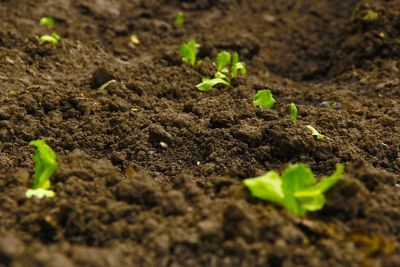 Composting Basics: Greens and Browns
Learn the best practices for composting and what should and should not be recycled in your pile.
What Is Composting?
Composting is the process of recycling organic waste. Microbes slowly break down vegetable scraps, plant matter, and other organic material into a rich growing medium that can be used to fill flower boxes, amend garden beds, and mulch flowers and shrubs.
What Should Go in the Compost?
Compost is made from organic materials such as vegetable and fruit scraps, dead plants, grass clippings, manure from herbivores, and dead leaves. You should not put into compost things such as fatty or oily foods, fish and meat scraps, pet waste, coal ash, sawdust, and chemicals. These items prevent the composting process from working properly, and some can attract unwanted wildlife as well.
Choose a Composting Method
All of the methods below work well, but each takes a different amount of time to complete.
A compost bin is an open outdoor receptacle that is built to contain a compost pile. Organic material is added to the bin and manually turned over a few times a week. Compost will be ready for use in 6 to 12 months.
Vermicomposting is similar to the compost bin method, except that worms help to speed up the process. Special kinds of worms, most commonly red wrigglers, are required: Earthworms will not work. The red wriggler worms have voracious appetites and will eat through an entire pile in half of the time it takes a compost bin to finish. Compost will be ready for use in less than 3 months.
A compost tumbler is a barrel-shape container suspended on a spindle. Organic material is added to the container through a hatch on the side. A crankshaft is used to spin the container, mixing the materials inside three or four times a week. Tumblers are great for a small household with light gardening needs. Compost will be ready for use in 3 to 8 weeks.
Identify the Greens and the Browns
All composting ingredients can be separated into two groups: the Greens and the Browns.
The Greens: nitrogen-rich organic material
• Coffee grounds
• Grass clippings
• Vegetable waste (e.g., onion peels, potato skins, rotten fruit)
• Trimmings from plants or weeds
• Manure from herbivores (e.g., goats, sheep, cows)
The Browns: carbon-rich organic material
• Dead leaves
• Straw
• Woodstove ash (only add a little: It raises soil pH)
• Black-and-white newspaper pages (color ink is toxic to plants)
• Sticks and untreated wood chips (should contain no chemicals)
Build the Pile Layer by Layer
Note: If using the compost tumbler method, do not follow these steps. Simply throw everything into the container and spin.
Much like a cake or lasagna, compost piles are layered. Begin with a bed of small branches and sticks, which creates an air pocket to aid in drainage and circulation. Compost piles decay faster when they drain well. Next, spread alternating layers of green and brown materials until you reach a height of 4 to 5 feet or run out of material. Top off the pile with a layer of old compost or soil.
When Is the Compost Ready to Be Used?
The composting process is finished when kitchen scraps are no longer identifiable and the material is the color and texture of soft gardening soil.
Follow these tips, and you will be turning waste into rich compost in no time!