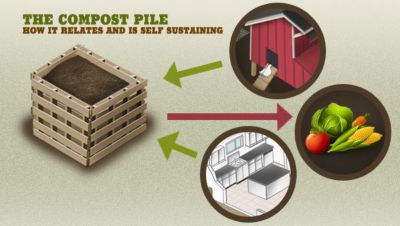 Compost Problems and Solutions
Follow these tips and tricks for making great compost.
Contributed by The Old Farmer's Almanac Staff
Making high-quality compost is easy if you know the basics and can troubleshoot common problems. The ingredients, moisture content, oxygen level, and temperature are the four basic building blocks for a healthy compost pile. The problems are (usually) fixable.
Compost Basics
1. Ingredients
Brown matter: This is carbon-rich material such as leaves and spent garden plants.
Green matter: These are nitrogen-rich materials like grass clippings, weeds, manure, and kitchen scraps.
Ratio: 25 parts brown matter to 1 part green matter.
2. Moisture
The general rule of thumb is that a handful of compost should feel about as wet as a damp sponge. Keep your pile consistently moist—this is especially important if you add lots of dry leaves or hay.
3.

Oxygen
Good air circulation is necessary for aerobic microorganisms to survive. They are the ones doing all the work of turning your garden waste into black gold.
4. Temperature
Ideally, your pile should "cook" between the range of 140°F and 160°F. Use a 20-inch compost thermometer for a reliable measurement (taken from the center of the pile).
Troubleshooting Tips:
Wet and Slimy
Soggy, matted down green matter can keep air from reaching the center of the pile. The aerobic bacteria that make compost "cook" can not live in an oxygen-deprived environment.
The fix: Cut back on watering; if your pile receives too much rainfall, place a loose-fitting lid or tarp over it. Also replace the kind of green matter that mats easily, such as grass clippings and hay, with fibrous, nonmatting ingredients like shredded corncobs and sawdust. This will increase oxygen levels and get the pile cooking.
Dry and Dusty
Do you live in a dry climate where summer rainfall is minimal, at best?
The fix: Dampen your pile with an oscillating sprinkler weekly. After watering, check to see that the center of the pile is moist, too. If not, moisten it in layers, flipping as you go. That should get things percolating again. If not, it might need more green matter. Spread the pile out and add some manure or bloodmeal. Then, build it back up into a pile.
Won't Heat Up
The most common reason for a cold pile is that it is too dry—this tends to happen in the hot summer months.
The fix: Start by covering the pile. And be sure to maintain a consistent moisture level. It's also possible that the pile may not have enough green matter. Fast-working microorganisms can quickly consume all the nitrogen and leave undecomposed carbon materials behind, disrupting the carbon to nitrogen ratio. Add grass clippings, weeds, kitchen scraps, and/or manure.
Full of Bugs
Pill bugs and sow bugs love to nest in compost. Sow bugs are not a problem; they help to break down organic matter. Just be sure your finished compost isn't chock-full of them before you add it to the garden; they are known for snipping off tender roots of emerging seedlings.
The fix: Up the temperature to above 120°F by mixing in a nitrogen source like bloodmeal, manure, or shellfish shells. They will scatter for cooler hideouts.
Loaded With Weeds
Sometimes piles don't heat up enough to kill weed seedlings. And some heat-loving seeds such as cucumbers and squash will take root.
The fix: If the plants are undesirable weeds, pull them up and turn them back into the center of the pile where it is hottest. If you are excited about your volunteer veggie starts, dig them up and plant them in the garden!
Rotten Smell
The most likely cause is the addition of too many kitchen scraps that weren't chopped and mixed enough.
The fix: Mix in some absorbent ingredients such as chopped straw or shredded leaves. This will heat up the pile and tamp down the odor.
Attracts Critters
Raccoons, opossums, skunks—all of those critters of the night are apt to poke around your pile in digging for food scraps, and while it doesn't cause the pile any harm, you might not want to actually lure them to your property.
The fix: Mix kitchen scraps with soil or wood ashes before burying it all in the center of your pile. Also consider building or buying a covered bin.
Finished Compost Is Rough
Some materials, such as eggshells and corncobs, take much longer to break down than others, making for a lumpy finished product.
The fix: For a more finely textured compost, shred or chop all ingredients before adding them to the pile.
You can also sift out the chunky bits using a screen.
Keep these things in mind, and you'll become a master composter in no time!