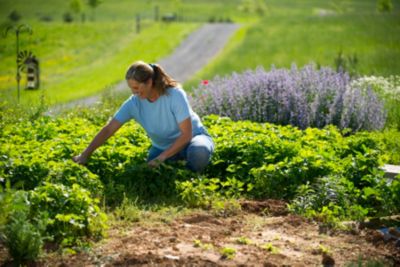 Companion Planting
Increase the vitality of your garden by planting complementary crops.
Contributed by The Old Farmer's Almanac Staff
Time-honored gardening wisdom says that certain plants, when grown together, are helpmates. For instance, some plants attract beneficial insects that help to protect a companion, as with zinnias, which attract ladybugs. When zinnias are planted near cauliflower, which is susceptible to cabbage flies, the ladybugs are there to control the pest population.
Other plants (particularly herbs) act as repellents by confusing insects with their potent fragrances, which mask the scent of the preferred host plants. Lavender, for example, is known to deter codling moths, which wreak havoc on apple trees.
Herbs and Flowers for Companion Planting
Tansy discourages cutworm, which attacks asparagus, bean, cabbage, carrot, celery, corn, lettuce, pea, pepper, potato, and tomato plants.
Catnip, hyssop, rosemary, and sage deter cabbage moth, which is detrimental to a host of edible crops, including broccoli, cabbage, cauliflower, kale, turnip, and radish.
Mint wards off cabbage moth and ants.
Nasturtium deters beetles and aphids, both of which attack numerous vegetable crops.
Thyme thwarts cabbageworm, which munches broccoli, brussels sprouts, cabbage, cauliflower, collard, horseradish, kale, and kohlrabi.
Dill and basil planted near tomatoes ward off hornworms.
Marigolds repel beetles, nematodes, and animal pests, protecting a variety of plants.
Nasturtiums attract aphids away from edible crops.
Carrots, dill, parsley, and parsnip attract beneficials like praying mantises, ladybugs, and spiders.
There are plenty of reasons to plant certain crops together. For example . . .
Benefits of Companion Planting
Shade regulation: Large plants provide shade for smaller plants in need of sun protection.
Natural supports: Tall plants like corn and sunflowers can support lower-growing, sprawling crops such as cucumbers and peas.
Improved plant health: When one plant absorbs certain substances from the soil, it may change the soil biochemistry in favor of nearby plants.
Healthy soil: Some crops, such as bean and peas, help to make nitrogen available. Similarly, plants with long taproots, like burdock, bring up nutrients from deep in the soil, enriching the topsoil to the benefit of shallow-rooted plants.
Weed suppression: Planting sprawling crops like potatoes with upright plants minimizes open areas, where weeds typically take hold.
Common Companion Plant Pairings
Asparagus benefits from basil, parsley, and tomatoes.
Beans thrive with beets, cabbage, and carrots.
Beets adore cabbage, lettuce, and onions.
Broccoli befriends celery, Swiss chard, and cucumbers.
Carrots like beans, lettuce, and radishes.
Cucumbers go well with beans, cabbage, and corn.
Lettuce pairs with beets, carrots, and onions.
Potatoes behoove corn, eggplant, and peas.
Tomatoes get help from carrots, celery, and cukes.
For your garden to thrive, plants have to grow well together. So, when you start mapping out this year's crops, add some companion plantings and build a healthy garden "community." After all, everyone needs a friend!