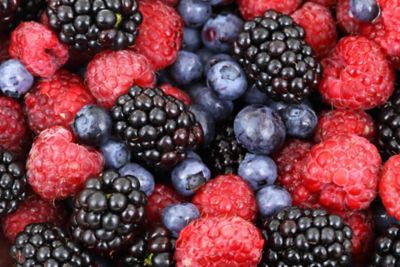 What to Do With Extra Fresh-Picked Berries
Benjamin Kilbride, Editorial Assistant at The Old Farmer's Almanac
When you've eaten, given away, and frozen as many berries as possible and you still have extra, it's time to try something else. Let no fruit go to waste with these quick and easy ways to preserve or blend your summer pickings.
Canned Berry Jam
A great way to make use of your armloads of extra berries is to turn them into tasty jams: Use fresh-picked blueberries, raspberries, blackberries, strawberries, or huckleberries. Can the jam to enjoy it year-round! The entire recipe below, including canning, takes 30 to 45 minutes.
COOKWARE AND INGREDIENTS
cooking pot
16 cups sugar
16 cups fresh berries of your choice
candy thermometer
plate (place in freezer)
4 Ball canning jars (1 qt. each) with sealable metal lids
canning pot with rack, such as Granite Ware 21.5-quart Canner and Jar Rack
Secure-Grip Jar Lifter tongs
INSTRUCTIONS
In a cooking pot, measure and combine equal amounts of sugar and berries. For a more tart jam, use 2/3 cup sugar to 1 cup berries. Turn heat to high and bring the berry mix to a rolling boil, using a candy thermometer to ensure that the jam's temperature reaches and stays at 220°F. Stir frequently.
To determine when your jam is ready to be canned, use the "wrinkle" test. Take the cold plate from the freezer and pour a teaspoon of berry liquid onto the dish. Push the liquid with your finger. If the jam is ready, the liquid will wrinkle; if it doesn't wrinkle, return the jam to a boil for another 3 to 5 minutes and try again. Continue until successful.
While the jam is cooking, wash the canning jars and lids with hot, soapy water. Rinse and dry.
Pour the hot jam into the canning jars, leaving 1/4 inch of head space at the top of each one. Screw the lids onto the jars hand-tight. Process the jars for 10 minutes. (Processing time starts when the water begins to boil.) After processing, let the jars sit for 12 to 24 hours. If a jam jar has not sealed, put it in the fridge to be eaten within the next month. Store sealed jars in a cool, dry place for up to a year.
Yield: Makes 4 quarts.
Berry Ice Pops
Cool off from the summer heat with a naturally sweet treat.
INGREDIENTS
2 cups fresh berries of your choice
2 ripe bananas
1-3/4 cups orange juice
ice pop molds and sticks
INSTRUCTIONS
In a blender, combine berries, bananas, and orange juice. Blend for 20 seconds. Pour into molds; freeze for at least 4 hours
Yield: Makes 3-1/2 cups mix (fourteen 2-ounce pops).
Fresh Berry Smoothie
Start the day right with this refreshing and healthy drink.
INGREDIENTS
1 cup milk (substitute: almond, soy, or coconut milk)
1 cup frozen bananas
2 cups fresh berries of your choice
2 or 3 mint leaves (optional)
INSTRUCTIONS
In a blender, combine milk, bananas, and berries. Blend on low for 10 seconds and then on high for 10 seconds. If the blender is struggling, add 1/4 cup of milk and blend until smooth. Top with fresh mint leaves and serve. Enjoy!
Yield: Makes 4 cups.