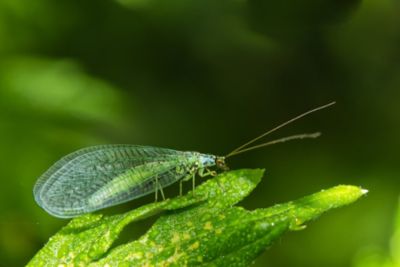 How to Identify Pests and Beneficial Insects
Benjamin Kilbride, Editorial Assistant at The Old Farmer's Almanac
Learn to identify the difference between pests and beneficial insects in the garden.
What Are Pests and Beneficial Insects?
Some insects are called predator insects because they hunt and eat other bugs. Predator insects include ladybugs, lacewings, minute pirate bugs, and praying mantises. Other beneficial insects are known as parasitoids, meaning that they lay their eggs in a host insect. After the eggs hatch, the developing young will eat their host. Examples of parasitoids include braconidae wasps, ichneumon wasps, and chalcid wasps. Spiders are also helpful as they eat small and large insect pests, so even if they frighten you, know that they do more good than harm. Both kinds of insects, as well as spiders, are friends to gardeners because they eat or kill many of the pests that trouble your garden.
Why Is it Important to Know the Difference?
While deterring or eliminating all insects is a common practice in gardening, it's helpful to take some time to learn which ones are truly enemies and which are friends. Knowing the difference can help you to save time and energy fighting something that isn't actually a problem. Once the favorable insects are left alone, they're benefits will begin to show.
Four Common Pests (and the problems they cause)
Cabbage loopers — 1-1/2-inch-long green caterpillars that feed on cabbage as well as cauliflower, broccoli, and Brussels sprouts. A group can defoliate a plant quickly, making it important to catch early. Look for irregular holes forming in plant leaves. To manage, handpick the larvae or prepare ahead by using row covers to prevent the adult moth from laying eggs.
Squash bugs — 1/2- to 3/4-inch-long insects. They are flat-backed and either black or brown. Squash bugs feed on plants in the squash family, sucking out the sap from leaves and stems, which causes them to wilt, dry out, and blacken. Eggs are laid on the underside of leaves on young plants. To manage, handpick adults and eggs and drop them into a bucket of soapy water to dispatch. To prevent the bugs from feeding on your squash plants, cover them with row covers early on, or plant resistant varieties such as 'Royal Acorn', 'Black Zucchini', and 'Sweet Cheese'.
Whiteflies — 1/16- to 1/10-inch-long insects, easily identified as a white cloud of flies that rises from foliage when disturbed. There are over 1,200 species of whiteflies, which feed on a variety of plants including carrot, tomato, cauliflower, broccoli, and sweet potato. Symptoms of infected plants usually begin with a sticky substance (honeydew, a feeding secretion of the insects) coating leaves, followed by leaf yellowing, defoliation, and sometimes death. To manage, inspect and hand-remove older leaves that are heavily infested with the non-mobile nymph stage of the whitefly. Another option is to attract natural enemies of the whitefly, which include spiders, ladybugs, and lacewings.
Aphids — There are over 4,000 species of aphid that affect a myriad of plants, which makes it difficult to generalize their appearance. Symptoms, however, are similar: Damage appears as yellow spots on leaves, wilting leaves, and stunted blossoms. Another sign is a sticky substance (honeydew) coating leaves. Look for aphids at the beginning and the end of the growing season, concentrated on the stems and buds of plants. To manage, handpick the insects off of leaves using a wet cloth or use a spray bottle with plain water. Another method is to control the amount of nitrogen added to the garden by using slow release fertilizers such as fish emulsion or liquid seaweed.
Repel Garden Pests
Some plants naturally repel garden pests by either smell or taste, while also providing you with fresh herbs.
At the edge of your garden, plant a variety of the following herbs to deter pests: basil to repel houseflies and mosquitoes; lavender for moths, flies, and fleas; thyme and dill for tomato hornworms, squash bugs, and cabbage loopers; and nasturtiums for whiteflies, aphids, squash bugs, and a variety of beetles.
Four Common Beneficial Insects (and they're benefits)
Ladybugs — 1/16- to 3/8-inch-long beetles, characterized by their iconic black-spotted red shell. However, they may also be white, yellow, pink, or orange. Ladybugs are natural enemies of aphids, though they will also consume other pests including leaf hoppers, mealy bugs, and mites. A single ladybug can eat from 50 to 60 aphids in a day and as many as 5,000 in its lifetime, making it one of the best beneficial insects to have in your garden.
Green lacewings — 1/2- to 3/4-inch-long insects that have a bright green body and two distinctive, delicate-looking wings. Lacewings are enemies of many garden pests, such as whiteflies, aphids, and cabbage loopers—they will eat up to 200 prey insects a week.
Minute pirate bugs — 1/5-inch-long insects that have black bodies with white markings on the tips of their wings. Pirate bugs are one of the first beneficial insects to return to the garden in the spring. They feed on aphids, spider mites, and thrips, consuming as many as 20 pest insects a day.
Praying Mantises — 3- to 4-inch-long insects that range in color from green to brown, characterized by their iconic "praying" stance. They have large eyes, triangular heads, and long pea pod-shape abdomens. Praying mantises are the ultimate predator insect—they will eat any and all insects that fall within their reach. Generally they are a benefit to the garden, but if their population gets too high, they can upset the balance of beneficial and pest insects, feeding more on one kind than the other.
Attract Beneficial Insects
Help to protect your garden by encouraging predators and parasitoids to live nearby. To attract these insects, grow perennial flowers and herbs that can be used by beneficial bugs as supplemental food sources and habitat. These include Queen Anne's lace, anise hyssop, pale-leaved sunflower, chives, basil, and cilantro. In the fall, grow cover crops such as buckwheat for ladybugs and lacewings; a variety of clovers for many kinds of parasitic wasps, minute pirate bugs, and ladybugs; and hairy vetch for minute pirate bugs, ladybugs, and predatory and parasitic wasps.