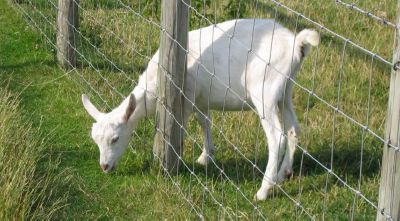 How to Select Fencing
When it comes to equipping your small farm, the right fencing saves time, money and frustration. The main purpose of most farm fences is to keep predators out, whether you're protecting livestock or the kitchen garden. Use the following to guide your decision-making process:
The purpose of the fence: What are you fencing in or out? Fences need to be strong enough to keep livestock in a paddock or pasture and out of gardens and hay fields.
The terrain where the fence will be located: For example, post fencing is unsuitable for hilly areas, and electric net fencing would not be the best choice for an area with heavy brush.
The amount of fence maintenance: Fences should be durable and as low-maintenance as possible, or you will spend most of your time making repairs.
Zoning rules for your area: Some fencing materials are illegal in some areas. Also, check zoning rules for fence height regulations before installation.
With these things in mind, the next step is choosing your fencing materials. Most farmers select their fences from the following.
Barbed Wire
Barbed wire is one of the oldest fencing options. Barbed wire gets its name from sharp barbs that protrude from where the wire is wrapped. It's difficult to work with without the proper protective clothing and is illegal to use in some areas. Check your community's zoning ordinances before installing this type of fencing.
Woven Wire
Woven wire is a versatile fence and is good for perimeter areas and areas where fences will be permanently located. Because woven wire is not an electric fence, there is no need to locate near a source of electricity.
High-Tensile Wire
High-tensile wire is another good choice for permanent fencing. High-tensile wire is incredibly strong and flexible. It provides an excellent barrier against predators and can slow an animal down without injuring it the way barbed wire can. This type of fencing can also be wired for electricity.
Electric Net Fencing
Electric net fencing is a nonpermanent option for pasture management and livestock control. It's primarily used to create a temporary paddock for goats, cattle, poultry and sheep. Electric net fencing is lightweight, highly visible and easy to move.
Board Fencing
Board fencing is the most traditional kind of fencing for all types of farms. Board fencing is most-often used for horses. It's also an attractive choice for perimeter fencing.
Tractor Supply Co has a complete line of fencing options for your small farm. Posts, fencing materials and fencing kits are available, as well as gates, latches and electrical hook-ups.