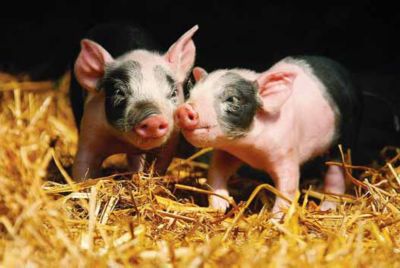 American FarmWorks® Electric Fencing Guide: Pigs & Hogs
Since pigs and hogs have such sparse hair covering and constantly wet noses, they are easy to control with electric fencing. These intelligent animals will quickly learn to respect and avoid an electric fence.
What you'll need:
Enough wire or polyline for 3 fence lines
Fence charger
Ground rods
Connecting wire
T-posts (if making a new enclosure)
Step-in posts (for temporary pastures)
Insulators
Fence line tensioner
Crimping sleeves
Appropriate fencing tools
Number of fence lines: For pigs, use 3 fence lines.
Best setup: Run at least 3 wires starting 6 inches or less from the ground. Space them out evenly up to a height of 24 inches to 40 inches. Always place one wire at the height of your animal's nose.
If piglets remain with your adult pigs, wires need to be spaced much closer together and lower to the ground. This may require additional lines.
If given the space and opportunity, many pigs will graze on grass and other vegetation. This can't be their only sustenance, but it helps round out their diet. This, along with foraging for grubs, bugs, roots and other food will keep them occupied inside your enclosures.
Tip: Pigs, like other livestock, should always be shocked on the snout. This causes them to back away from a fence. If they are shocked anywhere behind the eyes, they will bolt forward and push through a fence. This is why a line should always be mounted at the snout level.
Fence Charger
Ideally, pigs and hogs need a fenceline that runs 2000 volts or higher. Remember that voltage levels can vary depending on the length of fence, the type of wire and if there's vegetation intruding on the fence line.
American FarmWorks® recommends purchasing a fence charger based on your fence's characteristics:
Low impedance fence chargers(((LINK))), which include all American FarmWorks® fence chargers, are best for heavy weed conditions, long fences and/or large animals.
Plug-in (AC) fence chargers(((LINK))) must be placed near a power outlet. They deliver continuous, inexpensive electricity to a fence. They are the best all-around chargers thanks to their reliability.
Battery-powered (DC) fence chargers(((LINK))) are ideal for remote locations that are regularly checked.
Solar-powered fence chargers(((LINK))) are ideal for remote installations where AC power is not available. They have self-contained batteries.
Note: Solid-state fence chargers were once an option for electric fencing. That is not the case anymore, and this style of charger is not safe for use. American FarmWorks® does not offer any solid-state charger options.
Tip: Caked on mud can insulate pigs from electric shocks, which is another reason why low impedance chargers are best for these animals.