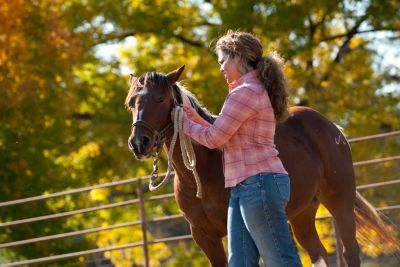 American FarmWorks® Electric Fencing Guide: Horses
Horses quickly get the hang of electric fencing, which means that horse farms and ranches are rapidly adopting it as their preferred fencing.
What's the best electric fence for your operation? It all depends on your horses' dispositions, pasture location, and the fence budget. Other factors in your fencing decisions should include horse safety, maintenance requirements and general aesthetics.
Why Electric Fencing is a Great Choice for Horses
Electric fencing is ideal for horses for many reasons. Most importantly, electric fencing is considered the safest horse fencing. With American FarmWorks®, it's also inexpensive and easy to install. Since horses are remarkably intelligent, they are easy to control with electric fencing. The basic guideline is simple: If a horse can see an electric fence, it will avoid it.
Why do electric fences work so well? It's all about the zap! Horses have thin hides and are usually well-groomed and shod. This combination provides perfect grounding for the horse, so it will feel a more effective shock. These shocks are entirely harmless, of course, and simply startle the horse.
Tip: Get your horse accustomed to its new fence by walking it around the entire border area of the fence. This will help it understand its boundaries.
Electric Fence Design for Horses
What you'll need:
For interior polyline installations:
Enough poly fence for 1 to 5 fence lines
Fence charger
Ground rods
Connecting wire
T-posts/pigtail posts (if making a temporary enclosure)
Polyline Insulators
Splicer buckles
Appropriate fence tools
For exterior high-tensile installations:
Enough poly fence for 3 to 5 fence lines
Wire insulators
Fence line tensioner
Crimping sleeves
Number of fence lines: The number of fence lines for horses can vary from 1 to 5 depending on the following factors.
Expected fence lifespan
Your activity inside the enclosure
Wildlife concerns
Paddock usage
Perimeter fencing
Best setup (perimeter fence): In general, at least 3 strands are required for horses, and 5 is the gold standard for perimeter horse fencing. For high-tensile fencing, space the wires approximately 10 inches apart and the minimum fence height is 52 inches. Set the bottom wire 12 inches from the ground. Electrify 2 to 3 lines. Note that more wires are required for stallions and wilder breeds.
Best setup (existing wood fence): Add an electric line to an existing wood fence, place 1 strand of 2-inch polytape or polyrope parallel to the interior of the top board.
Best setup (interior fencing): Interior fence lines do not need to be as extensive as perimeter fencing. For optimum visibility, mount four equally spaced strands of polytape (((LINK))) or polyrope (((LINK))) on your posts, space them 10 inches apart.
American FarmWorks® recommends that posts are spaced 12 feet apart and extend up to the 5-foot mark. Level ground is ideal for horse enclosures.
Age and gender can also play a part in line requirements. You can use as few as three strands to contain mares and geldings. Stallions and feisty colts are best contained by five strands. Containing foals is a special challenge since they are shorter than adults, so be sure to have an electrified strand close to their nose level.
Tip: Horses often use traditional fences as scratching posts, which weakens the fence structure over time. An electric fence will stop that habit right away!
Fence Chargers for Horses
To safely contain horses, a fence charger that delivers between 2,000 volts to 3,000 volts to the fence line is required. They require a lower voltage thanks to their thin coat. Remember that voltage levels can vary depending on the length of fence, the type of wire and if there's vegetation intruding on the fence line.
American FarmWorks® recommends purchasing a fence charger based on your fence's characteristics:
Low impedance fence chargers(((LINK))), which include all American FarmWorks® fence chargers, are best for heavy weed conditions, long fences and/or large animals.
Plug-in (AC) fence chargers(((LINK))) must be placed near a power outlet. They deliver continuous, inexpensive electricity to a fence. They are the best all-around chargers thanks to their reliability.
Battery-powered (DC) fence chargers(((LINK))) are ideal for remote locations that are regularly checked.
Solar-powered fence chargers(((LINK))) are ideal for remote installations where AC power is not available. They have self-contained batteries.
Note: Solid-state fence chargers were once an option for electric fencing. That is not the case anymore, and this style of charger is not safe for use. American FarmWorks® does not offer any solid-state charger options.
Tip: What's the best electric fence charger for your horses? In most cases, an AC fence charger is best since your horses require daily stabling and interaction. It will help to have the charger controls at the stable as you work with your horses.