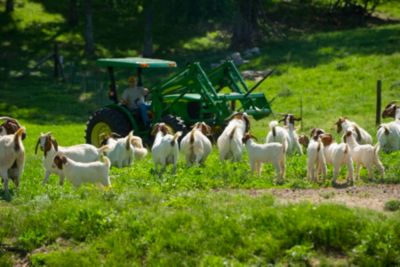 American FarmWorks® Electric Fencing Guide: Goats
Goats are stubborn and persistent, which makes them the most challenging livestock to contain with fencing. They will push on fences, squeeze between the wires or jump right over them. Though electric fencing is ideal for goat fencing, even the threat of electric shock may not deter some species of goats.
When designing a fence for goats you should consider:
The characteristics of the breed (i.e. coat thickness, hooves, behavior)
If you are keeping animals in and/or keeping predators out
Type of fence (temporary or semi-permanent/permanent
Electric Fence Design for Goats
What you'll need:
Enough wire for 6 fence lines
Fence charger
Ground rods
Connecting wire
T-posts (if making a new enclosure)
Insulators
Fence line tensioner
Crimping sleeves
Appropriate fencing tools
Number of fence lines:
For goats, use 6 fence lines.
Best setup: Lines should be closely spaced to stop goats from pushing their heads through the line. Start low to the ground and run 6 lines, with the top line at 46 inches off the ground. T-posts combined with aluminum or steel wire are excellent fencing options for this purpose.
Tip: If a goat gets its head between fence wires and receives a shock behind the eyes instead of in front of the eyes, it will more than likely try to push through the fence rather than pull away from it. This is why proper wire spacing (a hot wire at the goat's shoulder height) is important to safely contain it.
Fence Chargers
Goats are difficult animals to fence, which is why a fence charger that maintains 4,000 volts to 5,000 volts is needed for their electric fencing. Also note that, goats are a prey animal and may be attacked by predators, including wolves, coyotes or stray dogs. If these predators are present in your area, you will want a minimum of 5,000 volts on your goat fence line.
Also consider that voltage levels can vary depending on the length of fence, the type of wire and if there's vegetation intruding on the fence line.
American FarmWorks® recommends purchasing a fence charger based on your fence's characteristics:
Low impedance fence chargers, which include all American FarmWorks® fence chargers, are best for heavy weed conditions, long fences and/or large animals.
Plug-in (AC) fence chargers must be placed near a power outlet. They deliver continuous, inexpensive electricity to a fence. They are the best all-around chargers thanks to their reliability.
Battery-powered (DC) fence chargers are ideal for remote locations that are regularly checked.
Solar-powered fence chargers are ideal for remote installations where AC power is not available. They have self-contained batteries.
Note: Solid-state fence chargers were once an option for electric fencing. That is not the case anymore, and this style of charger is not safe for use. American FarmWorks® does not offer any solid-state charger options.