Farm Fencing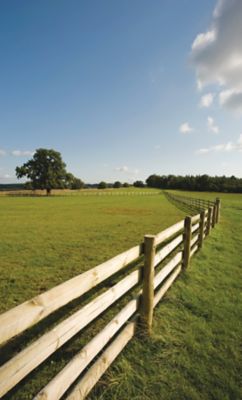 Protect livestock and property with strong, proper fences
By Noble Sprayberry
A sturdy fence provides a barrier against expensive tragedies. After all, just imagine the trouble of horses or cattle running loose on a busy road.
Fences, though, must survive a tough environment as animals and the weather do their best to wear down even the sturdiest wood and wire structures. So, it's important to monitor fences, checking to see when it's time to repair, or replace.
A bad fence can leave landowners in legal trouble, says Clyde Lane, a University of Tennessee animal science emeritus professor.
"If a producer has a history of his or her animals being out on the road, it's harder to defend in court than if it's only happened once every blue moon," he says.
Making sure a fence is suited for the job is the first step. For example, boundary fences separating animals from a neighbor or a road are the most critical.
"That fence is probably going to have to be a lot sturdier than other fences you might have on the farm," Lane says.
Other fences, such as those dividing the interior of a piece of property, can have a simpler design, such as an electric fence separating a crop from cattle. The expense of a specific fence should be balanced against the possible loss of the crop or animals the fence is meant to protect, Lane says.
Evaluating a Fence
A hands-on approach works best when checking to see if a fence is still up to its job.
"You need to look at the posts, and take hold of each one and shake it," Lane says. "Is it loose? Or, is it rotting down to where it meets to the ground?"
If posts must be replaced, consider the material.
"If you take a pine posts that's untreated, it will last a limited amount of time," Lane says. "If you use a treated post, you'll extend the life of it by quite a bit."
A close inspection is needed to evaluate a wire fence.
"Is the wire bright? It doesn't have to be shiny-new, but if it's very rusty it might be weakened, and that might be an indication you need to replace it," Lane says.
Also, landowners should develop the habit of giving fences a casual inspection whenever they are checking on their animals, remembering that's it's often more than age that can weaken a fence.
"Even a new fence can be damaged severely if a tree falls on it, and not just right where the tree hit," Lane says. "Further down the line, the tree might have caused a corner post to sway or be pulled out of the ground."
So, after a storm it's particularly important to make a general inspection of all fences.
"Most of the time, that's going to be sufficient," he says.
Damage is not the only reason a fence might need an upgrade. Fencing should adapt as the land use changes.
"You need to be sure you have the right kind of fence for the animal you've got," he says. "For a horse, you don't need to be using plain electric wire. They're liable to not see it and run into it. And barbed wire seems to be a recipe for disaster, because it seems like a horse will, at one time or another, get in there and get hurt real bad."
And one other component of a fence system always needs attention, Lane says. Never leave a gate open.
"A lot times, animals will find that open gate and get out," he says. "It's always easier, and much safer, to just close that gate behind you."