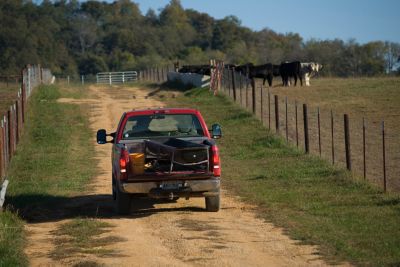 Truck Accessories
There's nothing better for hauling equipment, pulling trailers full of livestock or trekking over rough country than a four-wheel-drive truck. Its ability to take on the worst of roads in the morning, get washed down and shined up in the afternoon, and then head out for an evening on town, makes a truck the primary means of transportation for many families. Both heavy- and light-duty trucks are some of the most versatile vehicles available. Add the perfect accessories, and you've got a truck that can go just about anywhere.
Truck Box
The right truck box can make your truck bed the place for everything! Tool/truck boxes are great for storing tools and other gear, depending on where you're going and why. From hunting supplies to hammers, truck tool boxes provide maximum storage without taking up too much hauling space.
Truck tool boxes are made of steel, aluminum or heavy-duty plastic, with single or double lids that feature a push-button release. Truck boxes come in two designs: crossover and chest. Crossover boxes fit snugly over the edges of the truck bed right behind the cab for safety and ease of use. Crossboxes float above the floor by a few inches, which leaves room for storing items underneath, or for sliding plywood or other long supplies all the way up to the cab. Chest boxes sit firmly on the floor and are the only truck box option for trucks with a tonneau cover.
Aluminum boxes are the most versatile because they're lighter than steel and they don't rust. Plastic boxes are a good choice for basic storage, like straps, jumper cables or things other than tools. But, if you're using your box primarily for tools, you'll want the security and locking capabilities of steel or aluminum.
Tailgate Ladder
Pickup trucks aren't meant just for hauling things. A truck bed is a favorite riding spot for man's best friend, a quick and easy platform for a parade float, or a fun fall hayride. But getting up in the truck bed can be challenging for people with back and knee issues or for pets with arthritis. A tailgate ladder or step system is the perfect answer.
Tailgate ladders mount to the side of the tailgate and fold up when not in use. When open, the ladder flips out the side of the tailgate and rests on the ground. Using the side of the truck bed as a grip, three easy steps take you right into the truck bed - no jumping or climbing required.
Other revolutionary options are the Magnum Truck N' Budd and Great Day Truck N' Buddy. A combination of a platform and seat, the Magnum Truck N' Buddy stretches across the entire width of the tailgate. When the tailgate is open, the Truck N' Buddy creates a step and a seat. Rails at either side of the tailgate provide safety as you enter and exit the truck bed, and the step doubles as a convenient seat when it's time to stop for lunch.
The Great Day Truck N' Buddy operates on the same principles, but it is about one-third the size of the Magnum and is ideal if you want an easy way in and out while leaving the rest of the tailgate free. No matter which version you choose, the Truck N' Buddy is a great answer for anyone needing a little extra help entering and exiting the truck bed.
Truck Bed Mat
A truck bed mat is a must-have for avoiding scratches and keeping rust at bay in the bed of your truck. Truck bed mats can be custom-designed for a perfect fit or purchased based on the make, model and size of your truck bed. Truck bed mats also keep cargo from slipping during transport, increasing safety for both you and the items you're carrying. Look for mats that are at least 3/8-inches thick and that have high-strength cord enhancement to prevent cracking and damage from chemical spills.
Bull Bar
Bull bars and grille guards provide extra protection to one of the most fragile parts of your truck: the grille. Truck grilles are made to look sharp. But, if you've ever been in a fender bender or bumped a tree or rock just the right way, you know why they aren't known for durability. Adding a bull bar not only gives your truck a rugged off-road look, but it also provides a sturdy layer of protection from just about anything Mother Nature dishes out. Bull bars with stainless steel skid plates add additional protection for your truck's undercarriage, so rough roads and big rocks aren't a problem.
Bike Rack
For those who use their trucks for work and play, having a truck bed bike rack makes carrying bicycles a breeze. Floor bike stands are popular options and come with room for up to four bicycles. Over-the-top racks connect bikes to the side of the truck bed and to each other, while bike forks mount to the sides of the truck and through the front of the bike when the tire is removed. No matter the mounting option, truck bed bike carriers get you on the bike path quickly and easily.
Whatever the truck accessory, Tractor Supply has you covered. With over 1,000 truck accessories available online and in-store, we're your one-stop truck shop.