Preserving The Old Ways: Sustainable Farmers Cultivate Success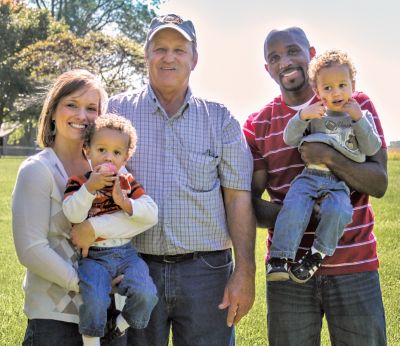 Justin and Erica Turner signed up for The Land Connection Illinois Farm Beginnings course
By David Frey
Photography courtesy of The Land Connection
When Justin and Erica Turner started growing vegetables on a 6-acre plot in Hayworth, Ill., they felt pretty lucky. They had land — an unused corner of the farm Erica's father owned.
The young couple had her father's tractors and farm equipment, too. By tilling and sowing just a couple acres, they raised enough vegetables to be more than just a garden. It could make farming a way of life for them.
"We wanted to know where our food was coming from," says Justin. "We didn't want it sprayed with all the different cocktail of chemicals out there."
They knew they wanted to run a small, sustainable farm, unlike the massive corn and soybean farms that surrounded them. What they didn't know was how to run it. Then a colleague gave Justin an advertisement for an organization called The Land Connection, an Illinois nonprofit dedicated to fostering a vibrant local food system by training sustainable farmers like him and Erica.
They signed up for the group's Illinois Farm Beginnings course, a yearlong farmer training program designed for a growing cadre of aspiring farmers interested in sustainable agriculture.
"It was extremely useful to sit down and plan out the business side of it," Justin says. "That was one thing my wife and I probably never would have done. We would have been like lots of other farmers, just planting by hope."
Focusing on the Details
The Land Connection started in 2001 with a focus on preserving Illinois farmland at a time when many farms were shutting down. Older generations were retiring. Younger generations didn't want to continue on.
In 2004, The Land Connection shifted its focus to training a new generation of farmers — people who were interested in starting small farms without chemical pesticides or fertilizers, but who often lacked the know-how of running a farm and making a living at it.
Since then, it has graduated more than 180 people. More than three-fourths of them have ended up in farming or related fields.
"There are a lot of ways in which farms struggle," says Jeff Hake, farmer training program manager for The Land Connection. "There's a right way and a wrong way to run a small farm and you can eventually run the thing into the ground if you don't focus on the details. We don't try to delude anybody. We tell them, 'Don't expect to get a ton of money. Don't expect to compare yourself to your non-farming peers. But you can have a career in this. If you work hard and you plan accordingly, you can have a decent living.'"
"If you want to be farming in this way you have to be passionate about it," he says. "You're not going to be earning a ton of money and you're going to be working super-hard."
The Business of Farming
The class costs $1,350 and takes place over nine daylong sessions between October and February, when farm work usually slows. Each session covers a different topic, such as preparing a budget; keeping records; and developing a market strategy.
"A lot of what we do with this class is getting people to do the things that are not fun about farming," Hake says. "Keeping really good records. Watching your budget really closely. Sitting down at the end of the year and looking at what worked and what didn't work. These things aren't fun to focus on, but that's part of sustainability."
In the second half of the class, students mentor with experienced farmers, creating bonds that often last long after the program ends.
Students drive as much as three hours to take part in Illinois Farm Beginnings, Hake says. Some are retirees. Some are teens. Others are husbands and wives looking to start over or mothers and daughters embarking on a new adventure. Often, they're mid-career professionals who sit at desks all day and dream of outside chores.
The one thing they have in common, Hake says, is they see sustainable farming as a way to make a difference.
"They're trying to minimize the use of synthetic pesticides and herbicides and really focus on creating healthy, fertile soils as the basis of the whole system," Hake says.
When Dylan Cook signed up for Illinois Farm Beginnings, he knew nothing about farming, except that it was what he wanted to do.
"I was a wannabe farmer looking for resources," he says. "I'd never planted a seed."
Now, Cook Farm raises an array of vegetables — artichokes to arugula, shallots to spinach — on 7 acres, and he's expanded to include pigs and chickens.
He's joined with about a dozen other farmers in a Legacy of the Land cooperative that helps small farmers pool their resources and diversify their goods to supply wholesale buyers and a community-supported agriculture program that provides bundles of food for paying members.
Working a farm and running it as a business are "inextricably linked," Cook says. "I learned that first and foremost with The Land Connection."