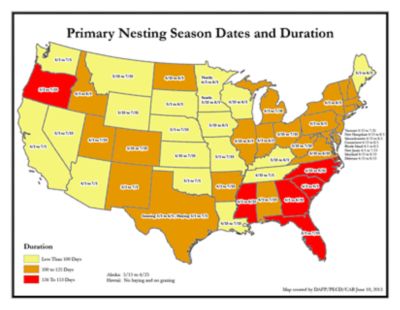 How to Mow Fields for Wildlife
Benjamin Kilbride, Editorial Assistant at The Old Farmer's Almanac
Learn how (and when) to mow your fields to promote habitat for pollinators and ground-nesting birds.
Why Mow Fields for Wildlife?
Many species of birds rely on grasslands and open fields to raise their young. During the spring and summer, these birds' habitat is often mown down and their nests destroyed. While the adult birds can survive by flying away, their young are unable to follow. Being conscious of when and where nests have been built can greatly increase the chances of their survival.
Pollinators such as bees, butterflies, and moths rely on fields as well. They gather nectar and pollen when wild and native perennial grasses are in bloom. Waiting until after the grasses have finished blooming can help to keep these pollinators' populations healthy.
When to Mow
While the exact dates depend on your region, the general time period to avoid mowing is from late April to late July. This is when most ground-nesting birds are finding a mate, building a nest, and raising young. If you grow hay or other grasses to sell as feed, it can be difficult to follow this advice. Fortunately, there are other precautions you can take if you need to harvest early.
Simple Practices for Mowing
By taking the time to change a few of your mowing habits, you can help to preserve vital habitat for ground-nesting birds.
• Walk through areas before mowing to check for bird nests—avoid those sections.
• Raise the height of the mower blade to at least 3 inches.
• Mow slowly, starting in the center of fields moving out to the edge.
• Reserve a section of field (at least 10 acres) for birds and pollinators.
Common Species of Ground-Nesting Birds
American Woodcock
Bobolink
Eastern and Western Meadowlark
Field Sparrow
Grasshopper Sparrow
Killdeer
Upland Sandpiper
Whip-poor-will