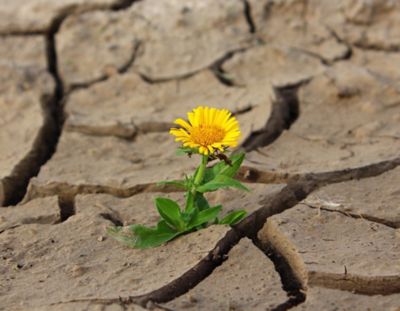 How to Handle a Drought
Benjamin Kilbride, Editorial Assistant at The Old Farmer's Almanac
Conserve water and keep your garden healthy and happy with these helpful practices.
Mix In Compost
Adding compost to your garden is the best way to retain more water. The more compost that is mixed into your garden, the more water the soil will retain. Simply put: Get your hands on as much rich compost as you can!
Till your soil until it is easy to work. Spread a 3- to 4-inch layer of compost on top. Mix the compost into the top 8 inches of soil.
Spread Mulch
A layer of mulch helps to keep the soil under it cool and damp. The mulch absorbs and retains moisture from rain and any water you apply and prevents water from evaporating as quickly.
After plants have begun to grow, spread a 1- to 2-inch layer of mulch over your garden soil. Spread the mulch around plants, right up to the base of their stems.
Plant Densely
Plant vegetables close together to shade the soil. The shade both reduces the number of weeds that come up and helps to keep moisture in the soil by limiting the amount of water that evaporates.
Ground-spreading vegetables also help to retain water in the soil; the large leaves on squashes, pumpkins, and zucchini naturally shade the soil. Pair them with climbing vegetables that can take advantage of the moist, cool soil but don't need much ground space. These would include pole beans, snap peas, snow peas, and cucumbers.
Weed Regularly
Weeds and other unwanted plants compete with your vegetables and herbs for water. Dig or pull up weeds as often as you can, as soon as there are any signs of new unwanted plants growing.
Create a Rain Garden
A rain garden is a bowl-shape area that captures water runoff from storms and allows it to soak into the ground slowly. Rain gardens turn your soil into a living sponge, absorbing 30 percent more water than your lawn. The design maintains a healthy level of groundwater in your soil and evenly distributes runoff during heavy rains. Rain gardens prevent erosion by diverting the rain away from your home and using the excess to water your garden for free!