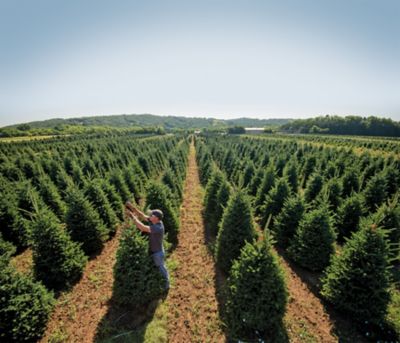 Most of the hard work prepping the trees is done under a blazing summer sun.
Growing the perfect Christmas tree
By John Commins
Photography by Greg Latza
The notion of trimming the Christmas tree is usually accompanied by hot cocoa, carols, bright decorations, and excited children.
For Todd Gannon, trimming the tree means hoisting heavy tools in the July heat to shear, prune, and shape thousands of Christmas trees to get them ready for their holiday trimming.
Gannon, owner and operator of the cut-your-own Riverview Christmas Tree Farm in Canton, S.D., and his work crew, which includes his wife Shari, his mother and father, a younger brother, a niece, and some Canton High School football players, will come in contact with each of about 15,000 trees on the 15-acre farm at least twice every year, sometimes more often.
"That is one-on-one interaction," says Gannon, who bought the tree farm on the banks of the Big Sioux River last April from his neighbors and lifelong mentors, Bill and Darlene Keizer.
"You have to spray for tree aphids, and a white scale that can build up on the trees. That goes on every spring. We get it on early so that through the weathering there is no chemical residue left on the tree by the time people cut them down."
Then, dozens of pinecones have to be picked, by hand, from about 5,000 trees, most of which are balsams and Fraser firs.
"That's usually only the older trees that grow cones, six foot and taller," Gannon says. "The cones fall off but they leave a sharp barb where the cone was in the tree and when people hang ornaments they poke their fingers and they don't like it. So we pick the cones by hand and that is quite a feat."
Then, the tops of 15,000 trees must be hand-trimmed to create the perfect shape for families to place their angel or Christmas star on top, he says.
The sides of each tree have to be trimmed with a big-toothed gizmo resembling a weed whacker on steroids.
"Probably one of the more physically demanding jobs is shearing the trees," Gannon notes. "We walk around each tree swinging at an angle, just nicking off any stragglers. You aren't taking a lot off every tree but you're talking off wild branches to make the tree grow tight and uniform. That is what people want. They want every branch to taper down into that perfect triangle."
While it seems that Christmas would be the busiest time of the year at Riverview, most of the hard work prepping the trees is done months earlier under a blazing summer sun.
"We have to trim the tops and shear the trees in July. We can't go any earlier," he says. "You have to wait until the new growth quits growing. When we trim trees we still need warm weather so the sheared part can heal."
Family Business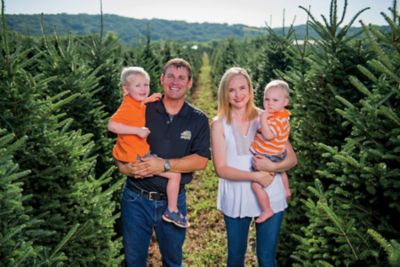 All this hard work did not come as a surprise for Gannon, who knew what he was getting into when he bought the Christmas tree business last spring. He was born and raised in a house less than one mile from the tree farm, and he worked for the Keizers while in high school. When the couple, who'd operated the farm since 1989, decided to sell, Gannon leapt.
"Most people when they see how much work there is wouldn't touch it with a 10-foot pole. But, for me, growing up and knowing the business certainly helped. I was also looking at something my boys could be involved with some day," Gannon says of his sons Aiden, 4, and Jace, 1.
"I thought it would be a fun family experience for us to work together and for them to learn how to … get that hard work ethic," he says.
On average, the trees grow between eight and 12 inches each year, depending upon the type of tree and the weather. Gannon and his crew will tag about 2,000 trees for harvest after they reach about seven feet in height. This year, if the averages hold from previous years, Gannon expects to sell between 1,700 and 2,000 trees, at between $8 and $10 a foot, depending upon the tree. There is little waste because customers cut their own trees, so the trees that aren't bought aren't cut.
About 80 percent of the trees are sold between Thanksgiving and the first week of December. While it's hectic, Gannon calls this "the fun time," and not just because of the financial payoff.
"It doesn't feel like work," he says. "Everyone is in a good mood. It's the holidays. They're with family. To me, it's a success when people leave with a smile on their faces."