Efficient Farm Lighting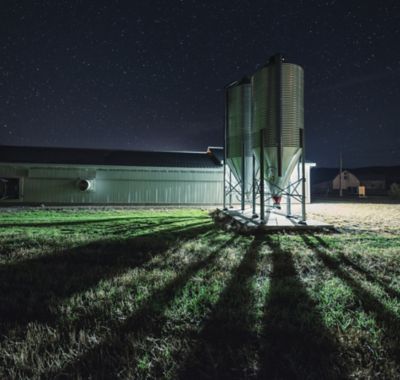 Timers, photo sensors, and motion detectors ensure lights are turned off.
Reprinted from eXtension.org
As you continue to scrutinize your farm for ways to save money, take a look at your lighting system.
The design and management of a farm's lighting system greatly affects its energy efficiency. Many changes to improve energy efficiency can be made immediately, but long-term efficiency gains come with planning when new or replacement equipment is purchased or new structures are built.
Until you can replace your lighting with new, energy-saving equipment — which also improves the quality of lighting — try these tips to keep down energy costs for farm lighting:
Use sunlight as often as possible; it generally will be the most efficient light available.
Incandescent bulbs should be replaced with compact fluorescent lamps (CFL) or an appropriate linear fluorescent lamp. CFLs produce the same amount of light but use 75 percent less energy and have longer average lifetimes than incandescents.
For security yard lighting, orange-tinted high-pressure sodium and white pulse-start metal halide lights are both significantly more efficient than traditional mercury vapor lighting. Note that these lamps cannot be used with motion sensors because they require several minutes to warm up and emit full output.
Fluorescent fixtures and lamps can also be used to replace mercury vapor lights where appropriate and are compatible with motion sensors. CFLs can be used outdoors in temperatures as low as -20 degrees F but must be protected from moisture.
Install timers, photo sensors, and motion detectors to ensure that lights will be turned off during hours when they are not in use.
Frequently switching lamps on and off will reduce lamp life.
Prolonged exposure to moisture, such as in an enclosed building that houses animals, will reduce lamp life, causing you to spend money on replacements. Lamps installed in animal housing should be in fixtures with moisture-resistant ratings.
In addition to reducing the output of lights, dust also reduces heat transfer from transformers used on fluorescent and high intensity discharge (HID) lamps. This causes them to operate at elevated temperatures, which will shorten transformer life.
Consider spot lighting for work areas. Spot lighting can use less energy than general lighting, which usually costs more to operate and focuses less direct light on a project.
If installing new fixtures, ask your lighting contractor or electrical wholesaler to provide a recommended spacing and layout based on the light fixtures you're purchasing.
And don't forget: Reducing the amount of energy consumed on the farm not only saves money but also reduces possible pollution and limits the consumption of non-renewable resources.