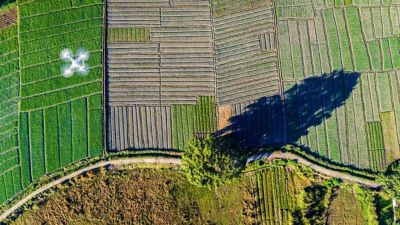 Keunl Shah/ Wikipedia Commons/ CC-BY-SA-4.0/ self
5 Ways Drones Are Being Used in Agriculture
Drones have been in use since the early 1980s for everything from photography to military intelligence. But, in the past few years, these unmanned aerial vehicles (UAVs) have become a more common sight in American skies. One area that stands to realize huge benefits from this technology is agriculture. However, with tight federal control on how and where drones can be used, farmers have had limited access to the benefits of these stealthy pieces of equipment. Recently, the FAA issued permits to a company in Idaho for the use of drones in crop scouting, which is good news for American agriculture. Using drones to monitor plant growth and overall production, as well as soil health and other aspects of commercial farming, can help farmers protect their harvests long before problems arise.
The following five areas are the most promising when it comes to how drones can and are assisting farmers in fruit and vegetable production:
1. Soil and Field Analysis
Knowing the needs of the soil and how to properly balance nutrients for optimal performance is a big part of a farmer's job. The best planting patterns, water needs and right amounts of nitrogen are all things a farmer must consider when planting crops each year. Drones can produce 3D pictures for early soil analysis and help farmers determine the best seed-sowing patterns from year to year. Drones can also be used for soil analysis after planting, making it easier for farmers to determine the irrigation and nitrogen needs of their crops. In the past, farmers had to hire aviators or use satellites to gather this type of information, which figured highly into the farmer's bottom line. By using drones, information is gathered without the need to hire extra personnel or contract with outside surveying companies. A reasonably-priced drone is a tool that takes the place of more costly options.
2. Early Weed Detection
Weeds are never a farmer's friend, and that includes large commercial farms. Drones provide high-resolution photographs of newly sprouted plants, making it easy to zero in on weeds before they become problems. Visual inspection of fields and crops used to be the only option available to farmers, but drones help take the guesswork out of weed identification in a fraction of the time. Plants of the same species are uniform in height based on time of planting. High-resolution drone cameras help farmers spot spikes and dips in crops quickly and easily, which is the primary signal for weed infestations. When weeds are found early, they are much easier to eliminate and control during the growing season.
3. Planting
Not only can drones spot problems and help farmers analyze soil, they can also be put to work getting crops in quickly. Drone planting systems shoot pods with seeds and nutrients directly into the soil, dramatically cutting down on the amount of labor needed to sow a field. This decreases planting costs by more than 85 percent. Drones are also useful for plant-stand counting after plants have emerged. This helps farmers calculate overall losses for the year and make changes for future plantings.
4. Spraying
Working drones can also help with the spreading of pesticides and fertilizers that keep fields weed free and plants thriving. Drones have the ability to scan the ground and spray the correct amount of liquid, adjusting amounts based on distance from the ground in real time. This reduces the overall amount of chemicals needed to do the job, which results in fewer chemicals in ground water and in the air. Agricultural experts estimate that drone spraying is up to five times faster than spraying with traditional farm equipment. This level of speed and accuracy in the spraying process reduces waste and increases overall profitability.
5. Monitoring
Walking the fields row by row and visually inspecting each plant used to be the only way farmers could determine the health of their crops and stop infestations and diseases in their tracks. Satellite imagery made the process easier, but still not perfect. With the help of drones, farmers now have access to the precise development of crops through time-series animation. This type of animation can show deficiencies in plant development, help farmers identify potential problems and increase the efficiency of overall crop management without the need of expensive satellite imagery. Drones also allow for on-demand images of crops, which make monitoring easier and more efficient. In the past, farmers only had access to satellite imagery once each month. In some cases, by the time the photographs were actually viewed, plant problems were already well established, making them much more difficult to eliminate or control. And because drones are battery powered, they dramatically reduce the amount of gasoline needed by farmers to run more traditional equipment. This produces an overall improvement in sustainability by cutting down on emissions and greenhouse gases while improving results.
When it comes to service drones, Tractor Supply Co has several options. Video drones with live-streaming capabilities, quadcopters and stunts drones are just a few of the options available. We also have a full line of plant seeds, spreaders, fertilizers and other products for your large or small farm.