Citrus Farmers Branch Out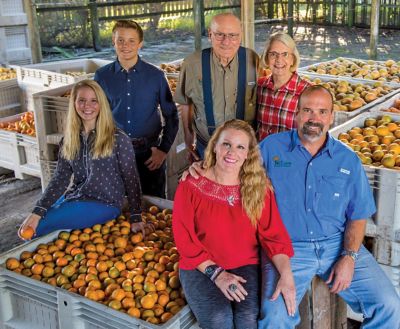 Some growers lost everything they had, but the Nelson family persevered.
Featured in Out Here Magazine Summer 2016 issue
By Carol Davis
Photography by Greg Latza
Bill Nelson retired in 1984 after three decades at the telephone company and eagerly went full time into the Florida citrus groves where he had grown up working alongside his father.
Indeed, Bill had spent nearly his entire life on his family's farm in Fort Pierce, Fla., working before and after work and on weekends. Now, he could spend his days outside, tending to his trees and the fruit stand that he and his wife, Charlotte, operated.
But the new full-time farmer practically was met by an outbreak of citrus canker that hit Florida in the mid-1980s like a fierce hurricane. The highly contagious disease, which nearly devastated the state's citrus industry, causes citrus trees to decline in health until they produce no fruit.
"It about shut us down," Bill recalls.
Some growers lost everything they had, but the Nelson family persevered.
Indeed, Florida's citrus industry is again in peril because of an incurable disease called "citrus greening" that attacks the fruit, turning it green and bitter, and eventually kills the tree.
It has caused devastating losses, but once again, the Nelson family is persevering, thanks to the third-generation, hard-charging, industrious, diversifying entrepreneur now in charge of the family farm.
Dan Nelson, one of Bill and Charlotte's children, reveres the 80-year history and story of his family's farm. Now, he's determined to sustain his family's business for decades to come.
Prime Location
Nelson Family Farms began when Danish immigrant Alfred Nelson and his wife, Hilda, farmed strawberries and tomatoes in the early 1930s. They bought the Fort Pierce 10-acre property in 1936 and planted citrus on it two years later.
The couple worked the groves with the after-school help of their three children, Alfred Jr., Mary Ellen, and Bill.
"Back then, a man could earn a living on 10-20 acres," Dan says.
The Nelsons' choice of location — along the Dixie Highway — was central to their success. The Dixie Highway, which dates back to 1914, was the major thoroughfare that brought northern warm-weather seekers to Florida. Many would pack their cars with oranges to take back home, where grocery stores didn't stock much citrus.
"Tourists — most of them were from the East Coast — would come down in the winter, pull into our house, ask for a bushel of oranges and Grandpa would go pick it," Dan says.
Bill continued running the groves with his parents, in between serving in the Korean War and working for the telephone company for more than three decades.
"He worked the farm evenings and weekends," Dan says.
Mornings, too, making for some long days. "We would be up washing fruit at 4 a.m. before work," Bill recalls.
Charlotte was in charge of running the fruit market that they built in 1970.
"Mom would peddle fruit there all day," Dan says. "When I got out of school in the afternoons, I would pick fruit and make orange juice to sell."
Eventually, Bill and Charlotte became the second-generation owners of the farm. And for a while, it appeared that they would be the last generation of Nelsons to work the farm; Dan wanted a life away from the citrus groves.
"When I was growing up, I thought that I would never come back," he says.
But after service in the U.S. Air Force and government work overseas, he reconnected with Lisa, a childhood friend.
"I proposed to my wife in 1995 and decided to come back home," he says.
At Bill's request, Dan and Lisa joined the family business, helping to tend the citrus groves, selling citrus, making and selling orange juice, and expanding into selling citrus gift baskets online. Lisa, an accomplished and in-demand landscape architect, lent her artistic eye to the family business by handling, among other things, marketing.
"It was all family run — no employees," Dan says. "It was a true mom-and-pop business. The till was a cigar box."
They realized, however, that the farm had been enough to support one family but not two, now that he and Lisa and their growing family had joined the business.
But Dan had ideas to grow their business, and his parents were emphatically on board.
"Dad believed in me and encouraged me to expand," he says. "The first couple of years, I just shut my mouth and listened to everything he had to say about the business. And after a couple of years, I decided that we needed to expand."
"That's when Dad and I decided to diversify," Dan says.
Longer Selling Season
With the demand for fresh, local food, the Nelsons decided to begin selling garden produce supplied by local farmers. Dan's experiment with the idea showed them that they had made the right decision.
Their selling season was typically November through May, but Dan decided to extend that calendar through the summer to see what would happen.
"Business just exploded," he says. "I got produce from local farmers markets and people just loved it."
"We went from 50 customers a day to well over 1,000 a day," he says.
The Nelsons' first priority is buying produce from local farmers. "Florida first," is what we say," Dan says.
But during Florida's off-season, they'll buy from farmers outside Florida's borders to provide their customers with fresh fruits and vegetables year-round.
"We're not seasonal anymore," Dan says. "We're diversified enough and able to source quality produce throughout the year."
Demand for fresh produce has been such that in 2004, the Nelsons built a large, open-air market next to their original fruit stand.
"Lisa designed it. She got it from my head onto paper and we built it," Dan says. "Dad and I put everything we had into it."
The market provides open-air shopping for produce such as tomatoes, melon, fruit, peppers, lemons, limes, herbs, onions, squash, corn, potatoes, and just about anything from a garden or orchard. Produce that needs chilled is kept fresh in a refrigerated chilling room.
The market also stocks edibles such as jellies, jams, pasta, marinades, soups, dips, tea, and the Nelsons' own varieties of orange juice. Also on the shelves is Bill's own unique product — Bill's Gourmet Coffee.
As another means of diversifying, he roasts coffee beans there on the farm, grinds them, packages them, and sells his own brand of coffee at his own market.
Dan also found a demand for backyard citrus trees, so they filled their massive greenhouses with orange, lime, grapefruit, and other tropical varieties.
The Nelsons buy very young trees and pot them in 7-, 15-, and 25-gallon pots, place them in the greenhouses, and let them grow — sometimes as many as five years — before selling them to homeowners or businesses that want them for landscaping.
The original fruit market now serves as a large garden center where the Nelsons sell their trees, plants, ornamentals, and gardening supplies.
But with all of their assorted products, Nelson Family Farms remains solidly in the citrus business. They farm about 200 acres of trees on leased land and operate a packing shed where the fruit is washed, dried, polished, packed, and shipped out.
Despite the ravages of the citrus greening disease, Dan is trusting that the industry he loves will persevere. "I do have hope," he says. "There have been some breakthroughs in research that are promising."
Business Partners
Dan and Lisa's teenaged children, William and Amelia, help out the family business when they're not busy with school and activities, and it's too soon to say whether Nelson Family Farms will see a fourth generation running the business.
For now, the second and third generations have business well in hand, with the help of about 40 employees.
Bill is in his 80s now and relies on Dan to take the lead in the business, but he's definitely not a silent partner.
"Dad is here before I am in the morning," Dan says.
Bill runs for machinery parts, hauls produce from local farms to the Nelson market, assists customers, roasts and grinds his coffee, and works where he's needed. Indeed, he's been integral to Nelson Family Farms' past, present, and future.
"Dad was my cheerleader the whole time," Dan says. "He believed in it and believed in what we could do."