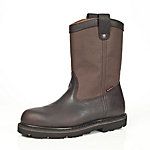 Five Types of Essential Boots
Choosing the right kind of boots for the work environment is an important part of job safety whether electrical hazard protection, service industry, or slip resistant. Boots should be durable, provide the right amount of foot and ankle support and meet the Occupational Safety and Health Administration (OSHA) standards for quality and safety. Knowing what you need before you shop is the first step to finding your best boot.
Work Boots
Work boots feature tough leather uppers and thick rubber soles to provide protection from puncture, scrapes and other foot injuries. Work boots cover the ankle and have padding around the top to prevent chafing and are often waterproof. Quality work boots also feature reinforcements at the heel and the toe and have heavy-duty laces. A good pair of work boots are an investment and can often last up to 10 years.
Western Boots
Western boots, also known as cowboy boots, have a distinctive style that's perfect for a day working with livestock or on the ranch. Western boots feature a Cuban heel which is rounded at the back and a square, traditional, snip or rounded toe. Western boots are typically made from cowhide leather but can be made from other skins such as snake or buffalo. Classic western boots have a tall boot shaft that reaches to the mid-calf.
Rubber Boots
Rubber boots are used in wet work environments to keep your feet dry. Rubber boots typically come almost to the knee and have a reinforced toe and heel. Rubber boots come in two designs: overshoes and regular. Overshoes are made of thinner rubber and typically feature five buckles to keep them secure. Regular rubber boots are great for mucking out stalls, working outside in the rain or tackling chores in the mud.
Fire Rated Boots
For firefighters and EMS personnel, there's nothing more important than a good pair of fire rated boots. Fire rated boots are designed like work boots with high tops, reinforced toes and heels and thick rubber soles, but they have a narrower opening that hugs the leg for extra protection. These tough boots are made of leather, nylon and composite fire-resistant materials, are waterproof and feature toe and heal protection.
Steel Toe Boots
Steel toe boots can be found in a few of the other categories, like fire rated boots, rubber boots and work boots and have many of the same features. OSHA requires the use of steel-toed boots by all employees in work environments with the potential for foot injuries such as falling, rolling or being pierced by sharp objects. This can include sites where nails, cinder block, bags of concrete, construction vehicles or any heavy objects are present. That means steel-toe boots are a good idea in just about any work environment.