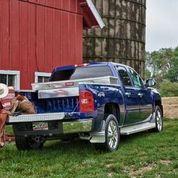 Three Types of Truck Tool Boxes
Truck owners that put their trucks to work, whether professionally or for do-it-yourself projects, need plenty of space for the tools of their trade. Having the right truck tool box is a great way to keep your tools organized, secure and corrosion free. Truck tool boxes come in three basic types: topside, underbody and crossover. Topside boxes attach to the tops of your truck side panels, underbody boxes attach below the bed and crossover boxes rest at the back of the cab on the side panels. Each box has its advantages, depending on the type of work you do and the way you use your truck. Knowing something about the different kinds can help you make the right choice for your tool storage.
Topside
Topside toolboxes are exactly what their name implies- boxes that mount directly on top of the side panel of your truck bed. Topside toolboxes are some of the most convenient types of tool storage since there's no need to reach over or hop into the truck bed to retrieve tools. Topside truck toolboxes are hinged at the bottom, making opening and closing fast and easy. No need to try and keep the box lid open while retrieving or replacing tools since the door swings down and stays at a 45-degree angle or rests on the side panel of the truck. Some topside boxes also come with convenient drawer storage just under the hinges for small items such as screws, nails, fasteners and hand tools.
Underbody
Underbody toolboxes make the most of your truck's storage capacity by fitting directly underneath the truck bed, just behind the cab and in front of the back tires. Because of their location, it's possible to even have two underbody boxes, one on each side, for maximum storage. Like topside boxes, underbody boxes have bottom door hinges for easy opening, loading and locking. Underbed boxes are either large and rectangular or compact and square, depending on your storage needs. Underbed truck toolboxes require the appropriate size mounting brackets for a secure installation.
Crossover
Crossover boxes are some of the most popular and identifiable truck toolbox option dur to their ease of installation and maximum use of the actual truck bed. Because these kinds of toolboxes are located right behind the cab, support by the trucks side panels, the box sits a few inches above the actual truck bed. This allows for transport of longer items such as sheetrock, paneling and lumber because they slide right up under the crossover box. With this type of box, there's no need to choose between proper tool storage and the ability to use the entire truck bed. Some crossover toolboxes feature a middle hinge which allows for both sides of the box to be opened from outside the truck. Other models use one large lid, hinged at the back, that can also be opened from outside the truck. Crossover boxed also have drawers for added storage of smaller hand tools and supplies.
Security
No matter the style of truck toolbox you choose, security is one of the most important features. Since your tools are your livelihood, a high-quality locking system, weatherproofing and durable construction materials, like heavy-duty aluminum, are a must for safe tool storage.
Tractor Supply Co. has a complete line of truck tool boxes to fit your tool storage needs. Crossover boxes, underbody boxes and topside boxes are available in a variety of sizes and colors and all feature tamper-resistant construction and durable locking components.