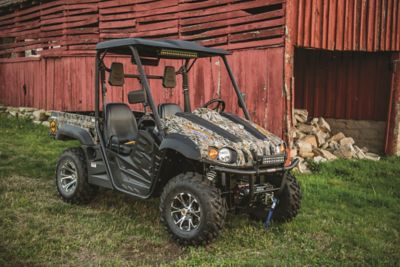 Three Ways to Keep Your Winch Running
When it comes to off-roading or moving heavy equipment, tree stumps or other debris around the farm, the right winch can make any job fast and easy. A winch is essentially a crank arm attached to the front of a vehicle at a right angle. The shaft rotates, applying power and torque to the line as it pulls an object toward the winch in a reciprocating motion. Simply put, winches can get objects large and small out of places that other tools and normal human force cannot. But winches are only as good as the maintenance done to keep them up and running smoothly. The following tips can help you have your winch ready to go at a moment's notice:
1. Battery Power and Connection
Selecting the right battery and checking to make sure the cables are secure and clean are probably the most important steps to keeping your winch running with all the power it can. First, choose the largest battery that has the most CCA (cold cranking amps) you can for your truck. Basically, the higher the CCA rating, the more power available to your winch. Second, keeping your cables clean and well connected helps prevent damage to the solenoid switch. Clean and well-connected cables provide the solenoid switch with the power it needs to keep the contacts secure.
2. Cable maintenance
Steel cables can fray over time and become dangerous when improperly maintained. If your steel lines are showing wear, replace them rather than attempt a repair. When using synthetic or natural rope in your winch, be sure and stretch it completely before loading to check for weaknesses or flaws before spooling.
3. Proper Winch Winding
When respooling, wind the rope or cable right and tight. Cables or ropes that are improperly wound increase the risk of kinks, which can create weak spots in your spool. To fix crooked steal cable, pull the cable off the drum leaving only two wraps on the winch. Attach the cable to a solid object. Place the winch in neutral and winch the cable back in place while maintaining the reel position. Wear heavy gloves for this task to avoid rope burns or metal fragments that could splinter in your skin. And always keep your hands well away from the winch mechanism and wear eye and ear protection at all times.
No matter the job, Tractor Supply Co has the right winch for your equipment. Our electric winches and accessories can help you tackle your project in the safest and easiest way possible.