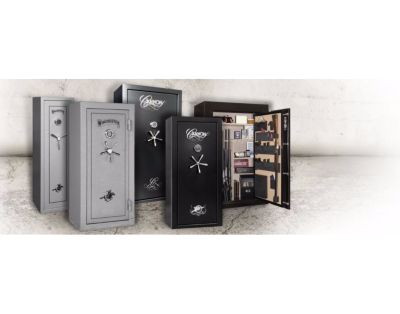 Gun Safe Ratings to Know
Guns safes are a great way to keep your firearms and family protected. They also make great homes for other valuables like jewelry, cash and important documents. But the things inside your gun safe are only well protected if the safe meets certain fire, flood and burglary standards. Fire can spread quickly, and a quality gun safe should provide protection for your valuables based on how hot the fire and how long it takes to extinguish. Safes that provide flood protection should be water tight for a period of time and also protect against mold and rust. Safe materials must be thick enough to also prevent penetration by a burglar in the event of a break in. Various ratings are assigned to these products to help consumers know exactly what they are getting when they purchase a gun safe.
Ratings Basics
Gun safes typically have a UL rating that stands for Underwriters Laboratories. This is an independent organization that serves to educate the public about the safety and performance of a wide variety of products across many industries. A UL rating lets consumers know the overall quality and safety of their gun safe. A gun safe that also includes a TL rating means it provides protection against mechanical, electrical and cutting tools for varying amounts of time. If a safe has a TR rating along with a TL rating it means that it can also withstand certain levels of welding and torch tools. Safes also come with a B or C rating which indicates the thickness of the walls and doors as well as the type of locking device. Safes with a B rating have walls that are less the ½-inch thick, doors that are less that 1-inch thick. Safes with a C rating have steel walls that are at least ½-inch thick and doors that are at least 1-inch thick.
Fire Ratings
The fire rating of a gun safe is listed with the UL first, temperature second and time third. This means the safe has been tested to withstand heat to a certain degree for a specific amount of time. For example, a safe with a UL Class 350 1-hour fire rating means the internal temperature of the safe will not exceed 350 degrees for up to 1 hour when the external temperature is above 1700 degrees. Safes can have a one, two or three-hour time rating. Fire ratings also include explosion tests and impact tests as part of the rating process.
Flood Protection
Flood protection is an important component of any gun safe, especially in areas where hurricanes and other natural disasters are possible. When considering a safe that offers flood protection, be sure the label states that the testing was done by an independent third party to ensure you are getting the level of protection you need. Since there is no specific rating system for waterproof gun safes, along with independent testing, look for products that guarantee their waterproof seals for a certain number of days in a particular amount of water. For example, "product maintains a waterproof seal for 7 days in up to 2 feet of water."
Tractor Supply Co. carries a full line of long and compact gun safes to protect your firearm collection and other valuables. We also offer gun safe accessories to keep your cabinet organized, well-lit and moisture free. No matter the guns or valuables, Tractor Supply Co. has your safety and storage needs covered.