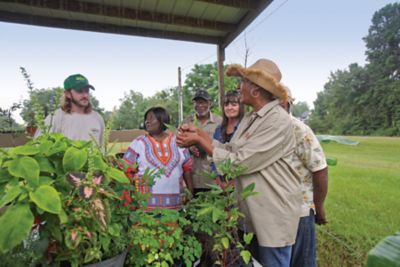 Going all-natural
By Nancy Dorman-Hickson
Photography by Meg McKinney
When Russell and Jewell Bean inherited an 88-acre farm that had been in Jewell's family for nearly 100 years, they were determined to revive the idle property by using natural, organic practices.
But though Jewell had helped on the farm as a child and Russell had apprenticed on a horse farm, they didn't consider themselves farmers and knew they had a steep learning curve ahead of them.
So the Eufaula, Ala., couple began learning everything they could about natural and conservation agriculture. And to gain on-the-job training, they even volunteered to work free of charge with area farmers.
"We'd tell farmers, 'If you don't have people to gather your crops at 5 in the morning, we'll come, "Jewell says.
Stanford and Bean Farm—named partially for Jewell's father, from whom they inherited—became home to chickens, ducks, cows, goats, pigs, and rabbits. Its soil also yielded a variety of fruits and vegetables.
As their knowledge grew, the Beans invited others to their farm to show how to adopt environmentally friendly growing practices. They also began working with Tuskegee University, Auburn University, and Alabama A&M University.
"That's how we got started, going farm to farm, helping farmers," Jewell says.
In a few short years, the couple went from novices to award-winning farming experts. They were named 2017 Small Farmers of the Year by the Alabama Natural Resources Conservation Service; the previous year, they received the Lloyd Wright Small Farm of the Year Award.
"One of the reasons we've received this recognition is because we do the peer-to-peer training courses," Russell says. "We have well over 100 farmers that we've trained."
The Beans typically end training sessions with a question-and-answer segment in which they ask the questions, Jewell says.
"We ask, 'Is there a well on your place? If you don't have a well, we're going to show you how to apply forfunding for one. We'll show you how to apply for funding for fencing. Do you know about drip irrigation? Do you know why you need it?"
She continues,"We open their eyes and show them what's available for them. We are all about educating, informing, and empowering people."
'Our Mission in Life'
Russell and Jewell see sharing their experience with other farmers as a ministry. Contributing farm-fresh food to others is part of that.
"We're trying to teach younger mothers to feed their kids fresh fruits and vegetables, instead of a box or can meal. It's that microwave mentality we have to work against," Jewell says.
The Beans are firm believers in eating fresh food; indeed, they credit healthy food with healing properties.
"I guess that's why Russell and I can work so hard," says Jewell with a laugh, noting that a typical day for the energetic husband-and-wife team can stretch into 16-18 hours.
"We feel this is our mission in life," says Jewell. "That's why we can do it and not get weary. God gives us the wisdom, knowledge, strength, and an attitude of gratitude to work with a spirit of excellence to get the job done. It's all about what you do for others."
"Our family moto is, 'Never give up, but always give back!'"