Tree Limb Frames
By David Frey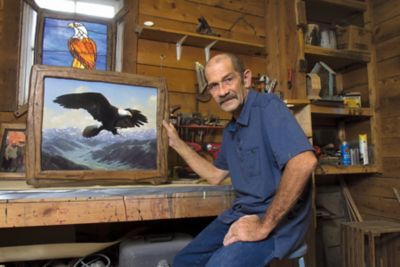 It can be easy to spot Jeff Wheat driving through the streets of Three Rivers, Mich. He's the one with a trailer full of tree limbs.
Maybe he found them hiking through the forest. Maybe he found them on the street, put out with the lawn waste. Wheat looks for them everywhere he goes. He knows what he's looking for: Limbs that aren't too skinny, but aren't too thick, either. Not too long. Not too short. Not too crooked.
When other people see them, they see a bunch of dead branches. Jeff Wheat sees art.
Wheat takes the limbs he collects and brings them to his workshop where he fashions them into rustic picture frames as unique as the trees they came from.
"You don't know what the grain of the wood is going to look like until you split the wood open," he says. "Each one is different. No two frames are the same."
Wheat's frames have decorated some of the gravity-defying homes on the Animal Planet show "Treehouse Masters," and he has given one to Tom Oar, host of the History Channel show "Mountain Men."
For Wheat, the frames are a way to create something beautiful out of materials most people don't think much about. No going to the lumberyard for him. His supplies come from the ground.
"Either somebody's going to burn it in a woodstove or it's going to rot. One of the two," he says.
He draws strange looks when people spot him eying woodpiles left on the curb. He stops, examines the goods, takes a few good ones, and leaves the rest.
"They just look at me like, what's this guy doing?" Wheat says with a laugh.
Other times, searching for limbs makes for a good excuse to take stroll in the forest and keep his eyes open.
"It's nice and peaceful to be able to just walk around in the woods and just look and be alone with your thoughts," he says. "Then you see one of those special limbs and I say, 'There's a frame there.'"
His creations are both rustic and refined, and more than a little work. Wheat usually looks for limbs about 6 feet long or so — long enough to keep his fingers away from saw blades as he works — and 3 inches round or less.
He splits the limbs in half with a table saw, then slices them into thinner slabs to make a back the frame's back and front. He miters the corners, joins them, sands them, shapes them, and stains them. After he adds a pane of glass and they're ready to go.
"It's more of an art form than a craft form," he says.
Special Gift
Wheat started making his frames about 15 years ago. His passion started as a special gift for his stepson. The two often went fishing together. A natural wood frame seemed like a fitting way to show off a photo of his stepson with his catch.
People loved the frame, and he's been making them ever since — probably more than 1,000 over the years — each one as unique as the wood grain he reveals when he splits open the limbs to see what secrets they hold.
He makes the round of regional craft shows and relies on word of mouth to bring his work in front of customers, but he says, he'd like to expand his range. "I'm looking to branch out — literally," he says.
Many of his customers come back again and again, often seeking custom orders for unusual sizes they can't find elsewhere. For some, these frames are the perfect complement to the art they want to decorate their walls.
"I love his work," says Lucinda Elliott, a former Three Rivers resident who now lives in Tucson, Ariz. "His frames are beautiful."
Elliott is using Wheat's frames to showcase some pieces of Native American poetry she has hung in her home.
"The poems are spiritual," she says. "They're about nature, and the frames go perfectly with that."
His favorite creation, he says, was a walnut frame with curving edges, dark knotholes, and shapely nubs of branches.
"That was the most gorgeous frame I ever made," he says. "That's the one frame, of all the frames that I've made, that really stood out in my mind."
A mother bought it as a gift for her son, a military combat photographer, to showcase his work. She boxed up the frame and sent it to him in Afghanistan and was on the phone with him when he opened it.
"He thought it was pretty special," Wheat says. "It was custom made, just for him."
Sometimes Wheat converts these limbs into furniture. He's made chairs. He has a table in mind. He also dabbles in other crafts. He makes stained glass. He refinishes old furniture. He even builds clocks and jewelry boxes out of toothpicks.
But the picture frames are what he's best known for. The dead wood he finds becomes works of art to hold other works of art.
"I have never seen these tree limb frames anywhere," Elliott says. "It's something unique."