3 Creative Alternatives to Carving a Pumpkin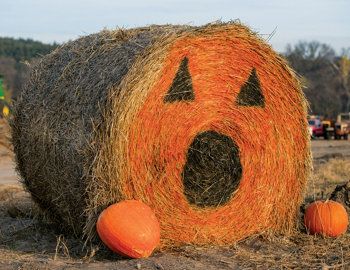 Thanks to Greg Latza for sharing this image.
As leaves change color, cider and donuts are go-to snacks, and goblins and ghosts get ready to prowl, it's time to think about pumpkin carving. Carving pumpkins dates back to 1800's when Irish immigrants brought the tradition to America. But back in Ireland, people hollowed out turnips, rutabagas and gourds on All Hallow's Eve and placed an ember in them to keep away evil spirits. When the Irish came to America, they were introduced to pumpkins and found them much bigger and easier to carve than other vegetables. Fast forward a few hundred years, and Jack-O-Lanterns now come in a number of shapes, sizes and materials. The tried and true method of a butcher knife to carve and big spoon to clean has made way for precision cutting tools and power tools to create some stunning designs. The following are just a few ways to create your one-of-a-kind pumpkin for Halloween.
Power Tool Creations

Power tools, like drills and jig saws are a great way to take your pumpkin carving to a whole new level. Jig saws make carving fast and easy, while a drill lets you create modern designs for a lantern look. After cutting out the bottom of the pumpkin and removing the seeds and pulp, draw your design on the front of your pumpkin with an ink pen or pencil. Insert the jig saw blade through the pumpkin rind and cut along the lines, removing the pieces with a fork or poking them through so they drop out of the pumpkin. Once all the lines are cut, place a candle or battery- powered LED light under the pumpkin, or stuff a string of Christmas lights inside the pumpkin for a haunting glow.
Different sized bits inserted into your drill mower can produce some interesting Jack-O-Lantern patterns. Drill out several large holes and surround them with several smaller holes for a twinkly effects. Drill straight lines of smaller holes from the top to the bottom of the pumpkin for a geometric glow. Use a spade drill bit to create holes for eyes and a hole saw bit for a large and spooky mouth.
Message Pumpkins
Using your skill saw, knife or pumpkin-carving tool to create words or letters on your pumpkin is a fun alternative to the traditional pumpkin face. Draw and cut out the first letter of everyone's name in the family, use several pumpkins to carve out the entire last name or cut in words of the season, like "Boo," "Gotcha," or "Happy Haunting." Simply trace the letter onto the pumpkin using stencils and cut out. Use care when pushing out or removing the cut away parts so as not to damage the rest of the letter.
Pumpkins from Unusual Materials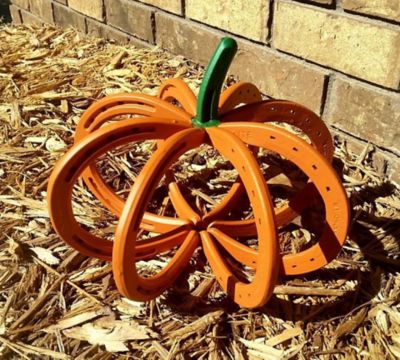 Pumpkins aren't the only things appearing as Jack-O-Lantern's on front porches this Halloween season. Get creative with things like horseshoes, pineapples and other squashes for a fun and festive display.
For a horseshoe pumpkin, simply turn 8 or 9 horseshoes on their sides in a circle, fanning them out until they are evenly spaced. Join the horseshoes together with liquid nails, solder or hot glue. Spray paint the entire thing orange and top with a green stem, either real or faux. Place a candle in the center for that Jack-O-Lantern glow.
Hollow out pineapples for a funny twist on the Jack-O-Lantern, as the pineapple tops make a frightening wig, and use other types of squashes, like butternut, acorn or patty pan for an entire squash family of Jack-O-Lantern fun.
Tractor Supply Co has everything you need to create the perfect Jack-O-Lanterns. From drill bits and jog saws to pumpkin carving kits and LED lights, we've what you need for a hauntingly good Halloween.