Classic Holiday Pie Recipes
Pull out the baking supplies and give the rolling pin a spin—it's pie-making time!
Contributed by The Old Farmer's Almanac Staff
The holiday season is under way, which means that it is time to make the pies the whole family loves: apple, pumpkin, and pecan—the classics. After all, what are the holidays without one of each?
An Oldie But Goodie
We all know that the secret to great pie is the crust. Try this 100-year-old recipe—it's sure to please.
100-Year-Old Piecrust
Ingredients
2½ cups all-purpose flour
1 cup lard (no substitutes)
dash of salt
1 tablespoon vinegar
½ cup milk
Instructions
Combine flour and lard and mix well with a pastry blender or two knives. Add salt and vinegar to milk and stir. Then combine milk mixture with flour and lard. Blend; shape into a ball and chill for 2 hours. Roll out on a floured pastry board. (Separate into two halves for recipes calling for a top and bottom crust.)
Ace Those Apples
Not all apples are created equal—at least when it comes to baking. For apple pie, choose from among Cortland, Fuji, Jonagold, Newtown Pippin, Rhode Island Greening, Rome Beauty, and Winesap—they are known for adding great flavor and texture to pies.
Classic Apple Pie
Ingredients
12 cups apples, peeled, cored, and sliced (10 to 12 large apples)
¾ cup sugar
1 tablespoon lemon juice
1 teaspoon nutmeg
1 teaspoon cinnamon
1 unbaked piecrust (see recipe above)
1 tablespoon butter
Instructions
Preheat oven to 425°F. Prepare enough apple slices to fill a 10-inch pie plate heaping full. (Use the pie plate to measure by filling it with slices.) When you have enough, put the apples into a large bowl. Add the sugar, lemon juice, and spices and toss well to coat. Line the pie plate with rolled-out bottom crust. Return the apple mixture to the plate, pressing the apples firmly into place. Dot the apples with butter. Lay the rolled-out top crust over the apples. Bake for 20 minutes. Reduce the heat to 400°F and bake for 20 minutes more. Reduce the heat again to 375°F and cook for 20 minutes more, or until the crust is nicely browned and the apples feel done when you put a knife through a vent. Makes 10 to 12 servings.
Did You Know?
A young maiden who peels an apple in front of the mirror and throws it over her left shoulder will recognize the initial of her future husband in the way that it falls.
Pick Your Pumpkin
When it comes to making a winning pumpkin pie, it's important that the pumpkin itself be tasty. Those pumpkins popping up in patches are for carving into jack-o'-lanterns—not for mixing into pies; they are stringy, bland, and watery. When shopping for pumpkins, look for "sugar pumpkins" or "pie pumpkins" with names like Baby Pam, Autumn Gold, Ghost Rider, New England Pie Pumpkin, Lumina (which are white), Cinderella, and Fairy Tale.
Blue Ribbon Pumpkin Pie
Ingredients
1 cup sugar
1 tablespoon flour
½ teaspoon salt
1 teaspoon ginger
1 teaspoon cinnamon
½ teaspoon nutmeg
⅛teaspoon pepper
⅛teaspoon cloves
3 large eggs
1½ cups mashed pumpkin
1 cup light cream or evaporated milk
9-inch pie shell (see recipe above)
Instructions
Mix together the first eight ingredients. Beat in eggs. Stir in pumpkin and cream. Cut the pie shell to fit the pan. Pour mixture into dough-lined pan. Bake in a 400°F oven for 50 minutes, or until knife is clean after inserting into center of pie. Cool completely before serving. Makes 8 to 10 servings.
Did You Know?
A slice of pumpkin pie before bedtime may help you to sleep.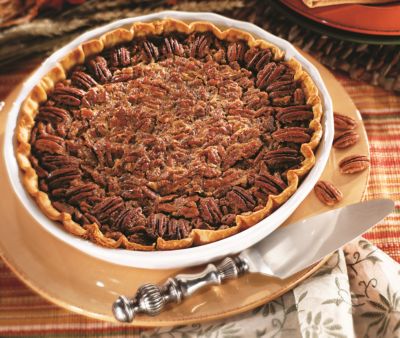 More Pecans, Please
So beloved is this southern staple that the pecan pie has inspired music lyrics, such as:
Beneath the shade of a Georgia pine
And that's home you know
Sweet tea, pecan pie, and homemade wine
Where the peaches grow.
–Zac Brown, American musician (b. 1978)
Maine Pecan Pie
Ingredients
3 lightly beaten eggs
½ cup white corn syrup
½ cup pure maple syrup
1 teaspoon salt
1 teaspoon vanilla extract
1 cup white sugar combined with 1 tablespoon flour
½ stick (4 tablespoons) butter
⅔cup pecans
9-inch piecrust (see recipe above)
Instructions
Preheat oven to 450°F. Mix together first eight ingredients. Cut the pie shell to fit the pan. Pour mixture into dough-lined pan. Bake for 10 minutes. Lower oven temperature to 350°F and bake until knife blade comes out clean (50 to 60 minutes). Serve with a scoop of vanilla ice cream or fresh whipped cream.
Now matter your pie pleasure, use high-quality ingredients and tried-and-true recipes for memorable desserts that the family will enjoy year after year. Because that's what holidays are all about—making memories!